January 6, 2011 on 8:45 pm by Michael Grey | In
News
,
Random Thoughts
,
Solo Piping
,
Stories
|
2 Comments
After a while, everyone who takes up the Great Highland Bagpipe comes to know of the MacCrimmons.
The MacCrimmons: that fabled sixteenth century piping family of virtuoso geniuses. The MacCrimmons, of course, were [and to a lesser extent, I suppose are] the family that provided piping services to the expansive MacLeod clan.
There's controversy around the MacCrimmon family. Their origins, their piping genius – even their existence – have occasionally come to be a topic of discussion, if not debate – mainly among pipery types (who else would be bothered?).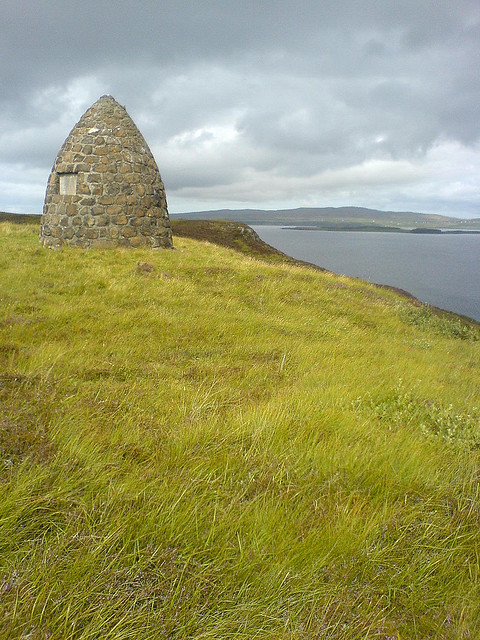 Anyway, I'm fessing up here: I'm one who believes they lived – well, we know they lived – but I believe many of them living as stratospherically brilliant musicians. I mean, just look at Euan and Calum for sweet evidence of my contention.
My intention today is just to say this: if you're looking for a monumentally excellent moment, a cool life experience (this goes for anyone – regardless where you live), I suggest – no, I say – for an unforgettable moment in your time, well, head to Skye.
I respectfully suggest that like the devout followers of Islam and the Hajj, or pilgrimage to Mecca, a trip to Skye and the site of the MacCrimmon school at Borreraig is a near-must for Great Highland Bagpipers.
It may not be the religious experience that is the Hajj. But it is special. I've ventured to Borreraig a number of times and have always come away a better piper for it.
Go to Borreraig. Bring your pipes. Play a tune.
You'll not forget the experience – ever.
Now there's a New Year's resolution.
M.
2 Comments
I confess: I have never been to Borreraig. I've been around a lot of Skye, and visited some extremely off-the-beaten-track Hebridean places, but never there. I like graves — real-life dead ones, that is. I have hummed compositions by some famous dead pipers ON their actual plots: e.g., GS, Roddie Campbell, John McLellan Dunoon, the MacPhersons, the Camerons… One of these days I'll get to Borrraig. Something to look forward to, for sure.

Comment by aberthoff — January 10, 2011 #

Well there must surely be some dead pipers around Borreraig. It is a place with a good vibe, regardless. A visit to look forward to! Be sure to bring your pipes. M.

Comment by Michael Grey — January 10, 2011 #
Sorry, the comment form is closed at this time.
Dunaber is using WordPress customized and designed by Yoann Le Goff from A Eneb Productions.

Entries and comments feeds. Valid XHTML and CSS.