Nine Blasted Notes (2004)
04.24.2007 : A quick note to say Nine Blasted Notes is repressed and available again. Legal downloading is increasingly becoming a reality […]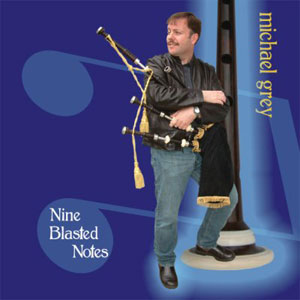 Highland Bagpipe & electronic/midi pipes by Michael Grey
With special guests including: Lorraine Lawson, Paula Lynn Walker, Iain MacInnes, Barry Prophet, Leslea Keurvorst and Bryan Greenwood.
What they've said ?
"A terrific album; it kept me good company this past summer on the ferry from Vancouver to the Island"
Jurgen Gothe, DiscDrive CBC Radio One ["Doubled Over Happy" from "Nine Blasted Notes" chosen by Gothe for his 'best of 2004' "Hit List"]
"We've been anxiously waiting for Michael Grey's new recording and we haven't been disappointed: we love his new CD; 'Nine Blasted Notes' is outstanding music"
Jennifer Keene, "Here & Now" CBC Radio
"Truly astonishing and impressive"
Scots Magazine
…when I lent the CD to a certain 16 year old, whose own musical tastes rarely stray out of the realm of heavy metal and grunge rock, he returned it with the assessment 'the coolest ****thing for bagpipes he had ever heard'…that alone speaks volumes."
Penguin Eggs magazine
"If you felt his last album 'Shambolica!' was pushing out the boundaries of tradition this one leaps over the fence altogether. Its adventurous stuff…choir-type vocals on a lot of tracks as well as whistle, pipe and an extremely varied approach to the musical backing, too … jaunty stuff, indeed".
Gary West – BBC Radio Scotland
"…masterful…a blast to listen to!…"
Scott Williams, Celtic Heritage magazine
"I loved this CD … cool, listenable …enchanting"
Piper & Drummer magazine (rating as "indispensable" in their review rating scale … "4.5 out of 5 grace notes")
Tracks
Doubled Over Happy 2:43
The Central 5:07
End of the Road (featuring Paula Lynn Walker) 3:51
St. Cyrus 4:27
Sound of Skye 4:06
Nine Blasted Notes 4:04
Two Crows Joy (featuring Iain MacInnes) 6:28
Like a Hawk (featuring Lorraine Lawson) 5:57
L'Estrie 4:52
Massawippi 3:10
End of the Road (Dance Remix)
Dunaber is using WordPress customized and designed by Yoann Le Goff from A Eneb Productions.

Entries and comments feeds. Valid XHTML and CSS.