August 31, 2023 on 8:21 am by Michael Grey | In
Photographs
,
Stories
,
Tips
|
Comments Off

on Magic with No Borders (Prosit!)
It's the last day of August and, for the second time in about a month, I've found myself in the stunning pastoral countryside of rural Germany – for piping. What else!

On this occasion I'm teaching at a school organized by two of the German piping scenes' most energetic – and impactful – movers and shakers: Andy Hambsch and Nils Bosshammer. Andy and Nils are a formidable team: between them they manage three piping schools across Germany and Switzerland. Like the Bagpipe Association of Germany's July summer school at the 1000-year-old Breuberg Castle (about an hour's drive west of Frankfurt) these schools reside in centuries-old hilltop castles. At the moment I'm on a coffee break at Ebernburg Castle (words I never imagined I'd key); pictured here is a view from my bedroom window.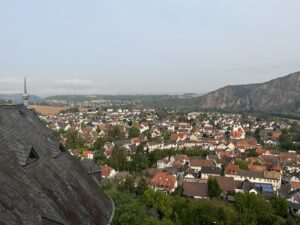 Many of these old places have been repurposed by various organizations and so form part of what are important elements of the German hostel system. With lots of rooms, teaching and practice space and moat-loads full of atmosphere, these places are tailor-made for music-learning – and music-making.
There are about 100 pipers and drummers at this school – with about a 85/15 split – with students from across Germany, Switzerland and Luxembourg. While there are kids at the school the majority of students are adults. In fact, most are what we'd call "adult learners", people who picked-up the pipes or drums well into adulthood.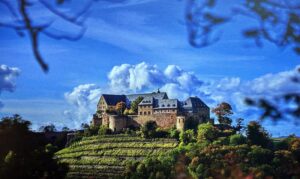 When I was a kid – and a frequent attendee of summer schools – adult learners were the exception. Most registrants were kids: under eighteens. The phenomenon of adult learners widely supporting summer schools is not common to Germany alone. We see the same in other jurisdictions. I know The Pipers' & Pipe Band Society of Ontario's "SummerBlast!" school of a couple of years ago was made up mainly of adult learners.
The physical, psychological and social benefits of learning a musical instrument are widely known. The positive cognitive spin-off of developing musical proficiency has been scientifically documented. It has been noted that playing a musical instrument may be one of the best ways to help keep the brain healthy. "It engages every major part of the central nervous system," said John Dani, PhD, chair of Neuroscience at Penn's Perelman School of Medicine.
So having a sense that one motivation in learning the bagpipes as an adult might be connected to health and well-being I asked my class today [pictured] (all adults aged – I am guessing – in their 20s through 50s): "why did you choose to learn the bagpipes?".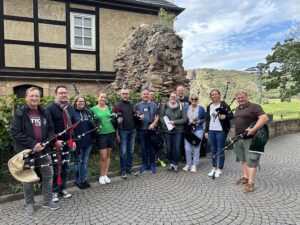 With all the piping and dancing and general merry-making that went on last night in the millennium-old cellar bar, well, I should have known better. Not one person in my 12-person class mentioned anything this afternoon about neuroplasticity, or nurturing physical dexterity. The answer to the question? Almost to the person it was, "the sound of the pipes hooked me" or "I heard the pipes and just knew I had to play that instrument".
I've talked of this mysterious bagpipe magic before: the spell-casting sound of the instrument.
The sound of the bagpipes. Magic that clearly knows no borders.
Prosit!
M.
No Comments yet
Sorry, the comment form is closed at this time.
Dunaber is using WordPress customized and designed by Yoann Le Goff from A Eneb Productions.

Entries and comments feeds. Valid XHTML and CSS.