July 31, 2023 on 5:34 pm by Michael Grey | In
Pipe Bands
,
Solo Piping
,
Stories
,
Tips
|
Comments Off

on Maxville Games 1949 / What's their secret!?
In undertaking some other work related to this coming weekend's North American Championships, the Glengarry Highland Games at Maxville, Ontario, I stumbled on an interesting broadsheet page from Glengarry County Archives. This edition of the paper is full of interesting facts and colour related to the 1949 games, including, one back-page story headline, a real eye-waterer for pipers, especially: "Ottawa Girl Loses 3 Fingers While on Vacation". You will see most of the games' headline reporting lands on the front page (photo from front page included here).



In reviewing this it strikes me that Maxville games has been an event success from the very beginning. The village of Maxville, as a relatively isolated community – meaning not part of a major or especially big nearby population centre – has continually punched above its weight (you know me and my love of jargon) when it comes to presenting an event of serious cultural and national importance. Canadian Encyclopaedia tells us that, "Maxville got its name from the many "Macs" of its Highland Scottish neighbourhood. Its population was 749 by 1901, but since then has been virtually unchanged." Until now, I did not know this! "Macs" – ville, I get it now!
For most Highland Games anywhere, "Maxville", as pipers and drummers call the Glengarry Highland Games, is something of a role model. What's their secret to staging a successful event?
I think I've sussed it out. And I'm going to tattle. I look to the consultant's storied "three things":
1. Cultural identity: Community commitment to cultural identity including Scots Gaelic roots
2. Community: A close-knit (agricultural) community with a long tradition of volunteerism: to give back and help the greater good
3. Organization: an intensely strong and broad-based organizational network of teams and committees dedicated to the excellence of every element of the games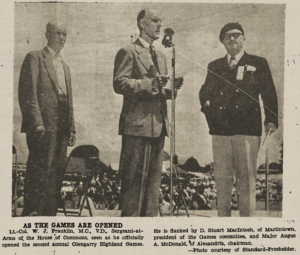 It has not been by accident that some of the day's finest, fittest and greatest have been called on – and eagerly accepted – the invitation to officially open the games. From Prime Ministers to great sportsman – and even a piper – Bill Livingstone – have been front and centre in officially opening the festival of Scots-Canadian culture that the Glengarry games represents so well. Its superbly organized with a large attendance of people from Glengarry – and far, far beyond. The event opening is a tailor-made PR gem for anyone cut from a certain cloth.
In the 1949 pages of The Glengarry News, linked above – and here, again – a few things popped out at me:
* The 1949 games were small with six bands turning up of the twelve who entered. Still, the event attracted a large attendance: 12,000 people!
* There exists somewhere the score for "The Ballad of the Glengarry Highland Games". It was written by Ken MacRae of Apple Hill, Glengarry County and sung on the day!
* John Wilson (Edinburgh/Toronto) immigrated to Canada in 1949 and cleaned up at the games.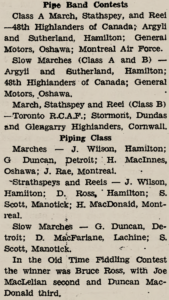 * Raffle prizes were a lot sweeter than generally seen these days in our orbit: Walter Taillon of Cornwall (about 20 kilometres south of Maxville) won a 1949 Pontiac car at the Friday night concert!
* There was an "Old Time" fiddlers contest in 1949. I love that idea.
All the best to the Maxville games committee volunteers and to everyone who is travelling to take part and do their best to celebrate the music and culture of Glengarry County – and beyond.
M.
No Comments yet
Sorry, the comment form is closed at this time.
Dunaber is using WordPress customized and designed by Yoann Le Goff from A Eneb Productions.

Entries and comments feeds. Valid XHTML and CSS.