April 30, 2023 on 3:59 pm by Michael Grey | In
Music
,
Score & Sound File
,
Stories
|
Comments Off

on John Wilson's Finest Tune: Tom Kettles
In his autobiography, "A Professional Piper in Peace and War" (1979), John Wilson wrote that he considered his composition, the six-parted reel, Tom Kettles, his "finest composition". It's a technically tricky tune, full of interest – and original melody. As I've mentioned before, for me it straddles the line between hornpipe and reel, with maybe the reel vibe edging out that of the hornpipe by a hair. It's a happy-sounding tune with a bright and lyrical – almost song-like – quality to it.

Tom Kettles was clearly a person Wilson admired a great deal. Kettles was a well-regarded reed-maker and, for a time, John Wilson apprenticed under his cane-shaping expertise. Wilson wrote:
"I worked as a male model for several months [!!!] and then I had another idea. I had always been on very friendly terms with Tom Kettles the reed maker … I asked Tom if he would give a six months course on reed making if I could get a grant from the government. Tom agreed, so I made enquiries at the unemployment exchange and found that there were indeed grants available for ex-service men, but bagpipe reedmaking was something they hadn't heard of. Tom Kettles was interviewed, and I got my course. How I enjoyed that period with Tom. I learned to make a good drone reed but I never did master the art of making a good 'pipe chanter reed".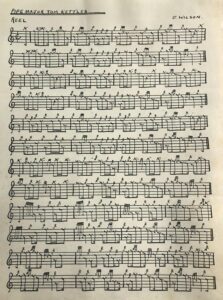 His own sketchy chanter reed-making skills aside, Wilson, thought enough of Tom Kettles to produce the fine piece of music shown on this page – and name it in his honour. Years ago I sent Wilson's widow, Margaret, a letter asking for a sample of one of his hand-written manuscripts. She kindly sent me two. As you can see, the tune Tom Kettles was one she sent along. I love that Mrs Wilson puts "Piping Tunes" and "Piping Competitions" in upper case in her carefully typed note. That's only right, I say!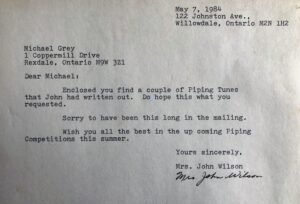 A random aside, it's interesting (mildly) to see that John Wilson would always give a nod to the missing "bag" when he wrote pipe – always an arcane apostrophe on 'pipe. Based on comments of his in The Piping Times, it used to get on editor, Seumas MacNeill's tits.
And that may well be why he did it.
Here's to John Wilson and Tom Kettles. Thinking of you – and the 'pipes – this day!
M.
No Comments yet
Sorry, the comment form is closed at this time.
Dunaber is using WordPress customized and designed by Yoann Le Goff from A Eneb Productions.

Entries and comments feeds. Valid XHTML and CSS.