March 14, 2023 on 3:34 pm by Michael Grey | In
Music
,
Solo Piping
,
Stories
,
Video
|
Comments Off

on MacCrimmon's Sweetheart with Canntaireachd
A piece of music that is in the back pocket of most experienced players of piobaireachd is the tune, Maol Donn. Better known, maybe, as "MacCrimmon's Sweetheart". It's a beautifully assembled composition that sits perfectly in a major key of the Great Highland Bagpipe's tonal centre. In the context of piobaireachd composition, it's a very old tune, likely composed in the early part of the 18th century, a golden age of piobaireachd creation. At around 12 minutes in length it's just-right for an around-the-games sort of tune for competition.

The Armagh-based traditional harpist, Simon Chadwick, has written an excellent potted history of the tune here.
It might seem fanciful to find that one of the stories attributed to the origins of the name, Maol Donn, is connected to a widow's cow found dead in a bog (which reminds me of Ernest Hemingway's "world's shortest novel": "For Sale: Baby shoes. Never worn" … I digress). But, for those who study such things, The Widow's Grief is another name associated with this piece of music. It's not hard to imagine how the loss of a cow back in a day of hard times would have been an absolute tragedy to a household, if not a life. What better fodder for music-making?

The Piobaireachd Society's excellent website notes that John MacDonald and Robert Reid played MacCrimmon's Sweetheart together at the MacCrimmon Memorial Cairn. This occasion would mark the unveiling of the monument at Borreraig, Isle of Skye, on Wednesday, August 2, 1933. If only to be a midge on a stone on the day to hear those two.
Bill Livingstone taught me this tune. I also went through it – as pipers say – with Captain John MacLellan (1921-1991). Bill learned the tune from John Wilson (1906-1979).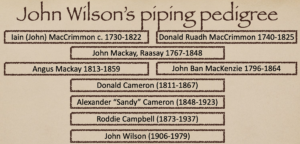 I was teaching a young senior amateur piper today and as we were talking he was surprised to learn that "I had music books". So, I was reminded that Hamish Henderson's "carrying stream" of tradition can at times meander and run low, so you'll see here a reminder of the source of much of the remarkable piping knowledge held by, John Wilson (again, the person who taught Bill Livingstone this tune).
I don't know what Bill makes of my rendition but here it is. The Campbell canntaireachd included in this video may be of interest to students. Though I can't help but tell you that editing the overlay of text was pure joyless fun (unlike this sweet tune which is always satisfying to play).
Mind the cows.

M.
No Comments yet
Sorry, the comment form is closed at this time.
Dunaber is using WordPress customized and designed by Yoann Le Goff from A Eneb Productions.

Entries and comments feeds. Valid XHTML and CSS.