September 15, 2022 on 5:02 pm by Michael Grey | In
Solo Piping
,
Stories
|
Comments Off

on Màiri Mhòr nan Òran at The Northern Meeting, Inverness
When in Inverness, Scotland a couple of weeks ago to take in The Northern Meeting solo piping competitions (meaning, to judge a couple of the events). I found myself, in advance of the contests, with some time on my hands. Even the most piping-mad people need a break from the gathering's fine piping sounds. And, so, I did.

In planning for what I thought would be a pretty lengthy march, strathspey and reel competition, I thought I'd clear my head with a wander through Inversneckie (said with great affection, as a visitor, I really have no right to latch on to any slang name for the historic city). So, what better way to clear a head than with a toddle through a cemetery (meaning to wander – not old-school toddle).
As a place that has been a centre for inhabitants for millennia, The Sneck, doesn't disappoint on the cemetery front. You'll be glad of that. It was only the afternoon before this day that Jim McGillivray and I visited the last resting place of the storied Donald Cameron and his family. Only a 100 metres or so from the River Ness, the Old High Churchyard, is a verdant – yet stone-covered – calm in the late-summer tourist storm that is Inverness' city centre.
So, on the first day of The Northern Meeting I found my way to the true dead-centre of town: the Chapel Yard cemetery. For almost a thousand years it has laid the ground-work, as it were, for the dead. A few side-steps around Buckie bottles got me to the grave of Mary MacPherson, the famous Skye poet and land reform activist. It's thanks to one of my favourites, Cathy-Ann MacPhee, that I have come to know a little of "Màiri Mhòr".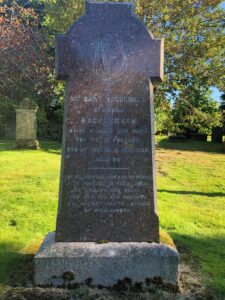 Big Mary MacPherson – the "big", the Mhòr, is undoubtedly related to the impact of her life and her music on others.
So, to tighten this Inverness story up.
You may know that a convention of sorts for competitive pipers, in advance of a performance, is to play a snippet of a tune to test the chanter to drones – to test tuning. Sometimes a slow air is played. Other times a bit of a middling variation of a piobaireachd. Other times, simply "tuning notes" are played by the piper, an extemporaneous slate of notes, usually, if the piper's on the ball, in line with those in the tonal centre of the tune that follows.
As I was set to take in this Northern Meeting march, strathspey and reel contest one piper set his drones to a tune not often heard on pipes (though, a favourite of the late, Alasdair Gillies, and, for the record, a tune the Peel Regional Police Pipe Band of my time [4'14" mark] loved to play) – and that is, Mary MacPherson's, Soraidh Le Eilean A' Cheò, farewell to the misty isle (Skye).
After having stood at the grave of Màiri Mhòr nan Òran only hours before the contest, then, hear her song played on the pipes this eve – and – to top it off – at the same time (I tell you! At the same time!) look up to the Eden Court Theatre audience and spy my old (but not) friend, Skye resident, Dr Angus MacDonald – I know, a true kindred spirit of, Màiri Mhòr nan Òran – well, it was something else.
These were a remarkable few personal moments; uncanny – if not a little supernatural.
M.
No Comments yet
Sorry, the comment form is closed at this time.
Dunaber is using WordPress customized and designed by Yoann Le Goff from A Eneb Productions.

Entries and comments feeds. Valid XHTML and CSS.