August 8, 2022 on 8:37 am by Michael Grey | In
Pipe Bands
|
Comments Off

on 1970 World Pipe Band Championship Programme
You may have heard of the 1970 Worlds tribute band that has been formed to perform at this year's World Pipe Band Championship in Glasgow, August 12-13. Rab Wallace has provided the back story on his site, Piping Press.

For those keen to have a further look at the 1970 World Pipe Band Championships, the first to incorporate a medley of pipe tunes into the grade one contest (versus the usual, "march, strathspey and reel"), here's the full programme.
In flipping through the pages a number of things come to mind:
The contest was not in Glasgow; and it was held in June
The format used in listing bands and their music appears pretty much as it does today; with even the same font and use of italics
The opening words by "Chieftain of the Day", the Marquis of Huntly, read like they might've been written on the back of a bar napkin: disjointed and cold.
The grade four championship requirement was a big 2/4-timed march, with one band, the valiant Bankier Pipe Band, submitting that great beast of a tune, Willie Lawrie's Captain Carswell. All for £25 – about £330 in today's money.
Bob Shepherd's Dysart & Dundonald Pipe Band were competing in grade 3. They would win the grade 1 World Pipe Band Championship seven years later.
The tunes submitted by the leadership of the grade 1 bands, in this first medley contest, are shockingly simple, with that perennial tattoo favourite, The High Road to Linton, landing in at least three band's selections of music. I wonder at the thinking of band leadership at the time.
A long-overdue tip of the hat to Bucksburn & District Pipe Band who opened their medley with a slow air – a SLOW AIR, I tell you! The Dark Island [composed in 1963 by accordion player, Iain MacLachlan and originally titled, Dr Mackay's Farewell to Creagorry] kicked off their set of tunes. I wonder what year the rule changed, the one calling for march time only – and a rule that helped homogenise this event.
Back to cash: £100 to the grade 1 band winner – about £1450 today and £15 to the fifth place band (£215 today)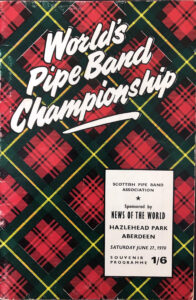 The results on the day of the grade 1 contest:
1. Shotts & Dykehead Caledonia
2. Muirheads & Sons
3. Edinburgh City Police Pipe Band
4. City of Glasgow Police
5. Red Hackle
Best drum corps: Shotts & Dykehead
Good luck to all participating in this year's championships on Glasgow Green!
M.
No Comments yet
Sorry, the comment form is closed at this time.
Dunaber is using WordPress customized and designed by Yoann Le Goff from A Eneb Productions.

Entries and comments feeds. Valid XHTML and CSS.