July 15, 2022 on 8:52 am by Michael Grey | In
Delightful Data of the Day
,
Music
,
Solo Piping
,
Video
|
Comments Off

on Angus MacPherson, Invershin: A 1957 visit with a great tradition-bearer
An interesting recording found me not so long ago. A buzzy interview (as in sound distortion) with Angus MacPherson, Invershin from 1957. I thought the near-half hour talk inspiring. This surprised me. On reflection: Here was a man in his ninth decade talking about life – and piping (of course) – imbued with the earliest echoes of the piobaireachd and the culture of that time.

As you'll hear, should you have a listen, Angus MacPherson talks of his father, Calum Piobaire MacPherson (had this man never been born piping today – anywhere – would likely be quite different from what it is), his early years near the height of the Victorian age and people he knew, like John MacColl and John MacDonald of Inverness.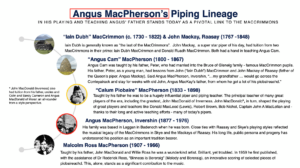 I think in listening to Angus MacPherson talk his love for the music and the life around it is clear. It reminded me of the brilliant simplicity, and so, the greatness of the music of the pipes: three drones and a melody-making chanter. The pure harmony intrinsic to the instrument is genius. To hear a person talk of the people who were at the headwaters of the carrying stream of piping tradition. Well, its just great.
I managed to remove most of the distortion and the recording is fairly easy to take in. Rather than me pontificate and tell you why this is important stuff click on the summary page just above this line: "MacPherson lineage".
I hope you find something in this that speaks to you.
01'00" – On his connection to the MacCrimmons
06'50" – Piping for a living and Highland dance lessons with John MacNeil, Edinburgh
07'20" – 7 miles to Dalwhinnie railway station with peat barrow
19'48" – Cattle drovers to Falkirk, Corrieyairack Pass, the good fellows
22'50" – Difference in piping in "present day" and his youth; discussions with John MacColl
25'20" – Difference in playing strathspeys and reels
26″20″ – "Miss Drummond of Perth" – good strathspey playing
"…it doesn't have the lift … that's what you get from learning from the book instead of learning from a competent teacher …"
27'25" – On loneliness, "Mrs MacPherson of Inveran"
M.
PS. Related links of interest:
Angus MacPherson's memoir (1966) "A Highlander Looks Back"
More on Calum Piobaire MacPherson and a story of his and his wife's love of Uisge Beatha
"The Art of Piobaireachd", by Ian L Mackay, Wellington, New Zealand, 1966.
The fascinating story around the funeral of Angus MacPherson's son, Malcolm MacPherson
No Comments yet
Sorry, the comment form is closed at this time.
Dunaber is using WordPress customized and designed by Yoann Le Goff from A Eneb Productions.

Entries and comments feeds. Valid XHTML and CSS.