January 4, 2022 on 12:46 pm by Michael Grey | In
Pipe Tune Score
,
Stories
|
Comments Off

on Mr. Donald Shaw S.S.C. (a very good person)
While Shakespeare's Juliet Capulet thought names were mostly irrelevant as "a rose by any other name would smell as sweet" I've come to see that like most things in life, such things – names, for one – are seldom cut and dried. I'd have to think, for example, that it's a good thing that your doctor understands the importance of noting the correct names in their script writing. To mix up, say, Viagra with Allegra might see stiff consequences: a potential hardship case for a person with a chronically runny nose. No. Names can matter.

In titling their music, composers often enjoy a turn of phrase here and a thoughtful dedication there. A Boy Named Sue, Sweet Caroline, My Sharona and even Darling Nellie Gray offer us reminders. I can't think of a slice of the musical world where this is more true than the customs put to use by creators of bagpipe music compositions. To have a piece named for you is a pretty fine thing, I think. Honourific, in fact. You'd expect me to say that, I suppose, having made and peddled tunes for a while. But, I've been lucky enough to have been at the receiving end of a (tune) title bestowed. So, I'll channel my inner used-car salesman and say, "trust me".
The small details of a tune title can give way to a lot of information to those with a curious disposition. A few years ago Bruce Gandy and I jointly made a tune for our mutual friend, Peter Aumonier. Spurred on, possibly, by Peter MacLeod, Senior and his dry-as-dust march title, Hugh Kennedy, BA, M.Sc. [Edcath Book 1] we made a tune in common time, Pete Aumonier, BA, FGG [Bob Worrall's first book]. You'll know straight away Pete has the cut of a Hugh Kennedy – he holds a bachelor's degree – and – if you're especially insightful, you'll know he's an – er – fairly good guy. Clever stuff, I know.
In looking closer to tunes at hand, if not tunes played and, so, in hands, I've recently come to know a lot more about one tune title, in particular. John Wilson's first book of music has long been a favourite; in part, I must admit, because I had lessons from the compiler. But more than that, his book is full to the brim with evergreen tunes. Published in 1937, his book holds the work of luminaries like George S McLennan, John MacColl, J B Robertson, Peter MacLeods senior and junior and, the compiler's teacher, Roddie Campbell. In fact, it was in this collection where the light of day first dawned on the reel, John Morrison of Assynt House. That truth alone has marked the book for greatness – forever.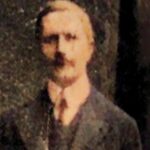 But it is the tune on page 10 of Wilson's slim pink-covered collection that has given me fascination beyond the notes on the stave: Mr. Donald Shaw, S.S.C. (pictured right), composed by Roddie Campbell. The melody is completely excellent. It strikes me as one of those kinds of tunes that, while not instantly likeable, endears itself in charming the fingers and ears with each successive play. In my experience this is not uncommon in exploring pipe music; or music of any kind, for that matter. We need new music – or music that is new to us – to have space, to breathe and find a way to live in the air; that is, if it's meant to be.
Roddie Campbell of Edinburgh was a top-line piper of his day and a composer of great merit. To my way of thinking his tunes are generally characterized by a lot of freshness and intelligence but, at the same time, a sort of brooding darkness. There's no light and bright Susan MacLeod or Mrs MacPherson of Inveran to be found in his catalogue of compositions. Campbell favoured the minor tonal centre of bagpipe sound. And that suits me fine, as does his Mr. Donald Shaw, S.S.C.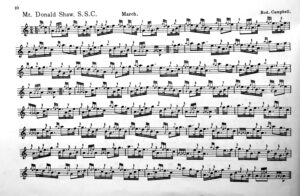 It was surely horoscopical luckiness that saw me recently working with Craig Turnbull on the ins, outs and mysteries of Mr. Donald Shaw, S.S.C. In looking to the title and knowing his broad professional awareness of things "Scottish", I asked Craig about the letters "S.S.C." and what they represented. As (the aforementioned) luck would have it, his legal training informed: it stands, of course, for, "The Society of Solicitors in the Supreme Courts of Scotland". So why, then, would Roddie Campbell make a tune for an Edinburgh solicitor? Campbell was Ross-shire born but a long-time Edinburgh resident. Thinking cynically along the lines of "tune for legal service" I thought a little sniffing around archives might produce something tantalising – interesting even. What am I like.
And so it did.
The briefest of enquiries produced a volley of information. Donald Shaw was a good man. In his day his name was recognized. He was talked about in both Houses of Parliament. He was widely known to the people of Scotland, especially those in the Highlands. A native of the Isle of Skye he was a Gael through and through and in his life he came to be known as a passionate defender of people seeking justice in land reform. His obituary in the January 1945 Scottish Law Review notes he was "known throughout the Highlands as 'the crofter's agent'".
One of Donald Shaw's most well-known engagements was his work (assumedly pro bono) connected with the defence of the group of ten men, fishermen and landless farm workers from Barra and Mingulay, who together came to be known as "The Vatersay Raiders" (pictured below with Shaw just before their trial). Desperate to make a living these people made their way to Vatersay – a small island adjacent Barra; there they built huts and planted potatoes and did their best to move their lives forward. They also broke the law of the day. In claiming their small pieces of land they violated previous prohibitions placed on them: Vatersay was owned by an absentee landlord, Lady Gordon Cathcart. The "land raiders" were seen as lawless squatters.
In June 1908 the men faced trial in Edinburgh. Land reform (think the fair redistribution of agricultural land) was a real issue then – and with echoes of an issue to this day. Much had been written in the press about the Vatersay "raiders", their cause and the case. On their arrival to Edinburgh via train 300 people waited at the station in hopes of seeing them disembark. The outcome of the trial saw the ten men each with two months prison sentence. A side note that gives serious insight into the person Donald Shaw was: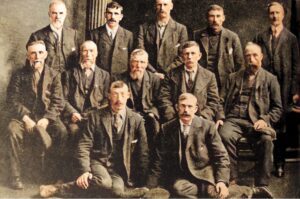 "The crofters, who had the terms of the sentence interpreted to them in Gaelic by their solicitor, accepted the situation stolidly … the intention was to have them removed to the Calton Prison in the ordinary prison van, but Mr Donald Shaw, their agent, objected, and offered to provide another conveyance. Shortly after three o'clock they were removed in cabs. Three prisoners and a policeman were in each cab. As each batch emerged into the square a cheer was raised, and they were exhorted to keep up their courage by persons in the crowd." (Ben Buxton, The Vatersay Raiders, Birlinn, Edinburgh, 2008 p. 5)
So, should you find yourself walking along the streets in Edinburgh's New Town and happen by 53, George Street think of Mr. Donald Shaw, S.S.C. His offices were at this place. It's not unlikely, too, that it was here that Roddie Campbell came to know him, be impressed by him and – who knows – may have even sung and dedicated his composition here to the great man himself.
I think knowing a little of named person, Mr. Donald Shaw, S.S.C, makes Roddie Campbell's melody all the sweeter. So shut it, Juliet.
No Comments yet
Sorry, the comment form is closed at this time.
Dunaber is using WordPress customized and designed by Yoann Le Goff from A Eneb Productions.

Entries and comments feeds. Valid XHTML and CSS.