July 16, 2021 on 7:04 pm by Michael Grey | In
Photographs
,
Stories
|
Comments Off

on Art and Gaelic Life in the Eastern Townships
This week I had the chance to head to the Homeland. To Quebec: the Eastern Townships, or L'Estrie, to Francophones. And, as anyone might, I took it.

I was born in Sherbrooke, the unofficial capital of the region, and so, over a lifetime, have spent a fair amount of time there. The Eastern Townships stretch – more or less, and to keep it simple – from south of Montreal and the mighty Saint Lawrence river to the American border. Sherbrooke is about an 8 hour drive from my home today in a place at the western tip of Lake Ontario.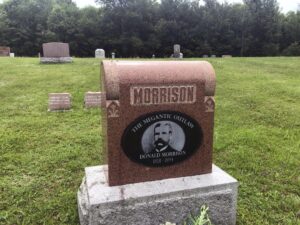 It's interesting to note that there are some Townships border towns, like Stanstead and Rock Island, that splay both Canadian and American boundaries. In fact, The Haskell Free Library, was built to plans that saw the building sit on both the Canadian and American borders. How's that for cooperation! The building was built in 1904 and is the only library in the world to span two international boundaries. There's a black line on the library floor marking the divide between the towns of Derby Line, Vermont and Stanstead, Quebec. For border towns like these I can only imagine what a pandemic-closed Canada-US border means to life in these small, tight-knit places. Unpleasant and frustrating are two feelings that come to mind.
This place in Quebec takes in the northern tip of the Appalachian mountain range. Rolling hills and the odd genuine mountain (versus, say, those hills we call mountains in Ontario) mark the geography. My dad's mother – Grammy, to us – always said the hilly place reminded her of the places she knew in Scotland. Drawing on my own experience I have to agree.
In the 1901 census of Canada the languages reported as "mother tongues" were, in order of highest number of respondents: English, French, German … and Scots Gaelic. Gaelic was number four. Around 90,000 Gaelic speakers lived in Canada in 1901. In the Eastern Townships around 5000 Gaels contributed to that number. Most then came from the Isle of Lewis – or born in Quebec with Gaelic first. Today Scots Gaelic doesn't hit the top 50 languages on the Canadian census report. A quick aside: for those interested in this history I recommend the book, "Oatmeal and Catechism" by Margaret Bennett (mother of the late piper, Martyn Bennett).
1901 isn't really that long ago. Think of 120 years as the standard lifetime of a yoghurt-eating and healthful Georgian person. In touring around these places today it's not difficult to imagine the intense hardship of life in this part of the Eastern Townships at the turn of the 19th century. Heavily wooded forests of the time are still common, as is marsh and swampland (imagine the black flies, deer flies and mosquitos – and they haven't gone away). Walking was the go-to transportation method. Outside of going to church, it would be unheard of to walk anywhere without carrying a weighty load of some kind. But newcomers, settlers, optimists from another place, call them what you like, they all made their way.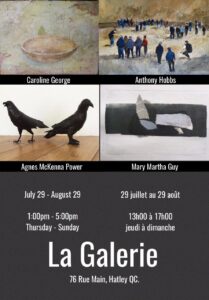 Pipers might know that the 78th Fraser Highlanders Pipe Band of my time performed music made to mark this area and its people; specifically, The Megantic Outlaw on the band's Live in Canada recording. This week I had a peaceful feeling in walking the cemetery where Morrison and his people rest in the back woods outside of Milan. The Gisla Cemetery, is surely in the back of beyond. Still, its well-maintained and every single stone marker bears the name of a Gael: stone testaments to resilience and deep fortitude. Happily, the Quebec government recognizes the place as a site of historical importance. As it is.
Still, I'm happy to say that trips east to the Townships aren't all about heavy soul-wrenching, cemetery-trodding expeditions. Ha! Always among the highlights is a visit with my cousins, Maggie and Caroline George, daughters of my dad's sister, Eileen (random recommendation: Auberge Ayer's Cliff and their terrasse). Caroline is a professional artist. In fact, she painted the image that is the cover of my recording "Cuts from Traditional Cloth". She has an art show coming up from her studio in Hatley, Quebec.
For those travelling at this time I pass the poster along on this page.
Highly recommended! Here's a chance to take in the art of a dyed-in-the-wool Eastern Townshipper – and offspring of a Gael.
M.
PS. As an aside, Caroline gifted me this fantastic painting of our grandmother, Maggie Teresa MacBain. Here it is (I love it!):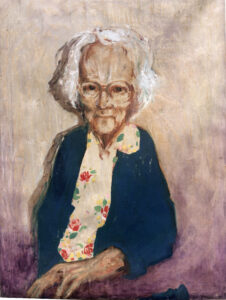 No Comments yet
Sorry, the comment form is closed at this time.
Dunaber is using WordPress customized and designed by Yoann Le Goff from A Eneb Productions.

Entries and comments feeds. Valid XHTML and CSS.