November 30, 2020 on 2:05 pm by Michael Grey | In
Solo Piping
,
Technique
,
Tips
|
Comments Off

on Advice from G S McLennan: "There are those who can …
George Stewart McLennan was not just a great player and composer; he was an important contributor to the evolution of the music of the Great Highland Bagpipe. In his approach to technique (meaning embellishments and associated phrasing) he was on the vanguard of the music's transition from the 19th to 20th centuries.



While today we're used to seeing – and, I suppose, hearing, too – competition-style tunes replete with gracenote configurations of every kind, this wasn't always the way. I suggest that should it be possible for us to listen in on a professional solo piping contest of, say, 1898, the tunes played would come across as bare – as in naked (with lots of bounce and tempo). There's no doubt GS was a central figure in creating, publishing, teaching and promoting tunes with technical heft greater than was usual.
In looking in on a video record of the excellent GS McLennan exhibition from the 2011 Piping Live! festival in Glasgow we can get a sense in his writing that he was aware – if not a little sensitive – to criticism aimed his way connected to his technical approach.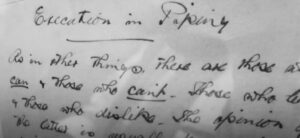 On bagpipe technique – or "execution" (as he put it) he wrote (3 March 1923):
"As in other things, there are those who can and those can't. Those who like and those who dislike. The opinion of the latter is usually formed by their position in the former."
GS McLennan: blessed with talent – and wisdom.
M.
No Comments yet
Sorry, the comment form is closed at this time.
Dunaber is using WordPress customized and designed by Yoann Le Goff from A Eneb Productions.

Entries and comments feeds. Valid XHTML and CSS.