October 31, 2020 on 5:03 am by Michael Grey | In
Random Thoughts
,
Solo Piping
|
Comments Off

on Lachlan MacNeill Campbell of Kintarbert
You'll know today was the annual Glenfiddich Piping Championships. I tuned in to the pandemic version and took in the contest online. It was while Connor Sinclair was in mid-tune that the thought struck me: the piece he's playing is not really all that old. Sure, it's a good stretch older than the performer but as a tune written around 1837 its still shy of 200 years old. There's even wine and beer around that have been known to be drinkable after 200 years. Lachlan MacNeill Campbell of Kintarbert's Fancy is a much-liked favourite in the repertoires of many piobaireachd players: purely melodic, it hits the mark as a tune to be savoured – and played.

But what about this Lachlan MacNeill Campbell. Who was he? We know he was an accomplished piper, he was believed to be a pupil of either Angus Mackay or his father, John. Of course, he was of Kintarbert, an area not far from Tarbert on the Argyll peninsula. He judged a number of competitions for the Highland Society and … he was loaded. I'm using Canadian vernacular but know that in using the word "loaded" I mean LMC was very well-off financially. Especially relative to his time and the rural place he lived.
It's amazing what can be found at the tips of fingers. But then LMC lived in the middle of the 19th century, again, not that long ago (well, at least relative to human history and the average age of a tortoise). And so we have records. While Connor was playing his tune I found my way to a little multi-tasking – with soundtrack: I logged in to Scottish National Archives and looked up our man, LMC. In a near-instant I found a record of an inventory of his final estate. He was only 49 when he died in 1852 and clearly left his survivors in good pecuniary shape. Between cash in the bank and rents due from his land holdings – the Estates of Kintarbert and Saddell – he left over £4000 (plus the value of his properties). Four grand in 1852 is worth over £560,000 in today's money. In 1851 the average annual salary for a farm labourer in England and Wales was £30. I'd guess that in the Argyll of this time there were not a lot of salaried jobs. It's likely LMC never had to worry about an annual salary of any kind.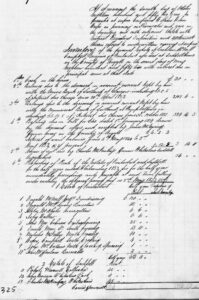 For those interested the final "resting place" of LMC can be visited. His gravestone, or what remains of it, sits in Kilnaish Cemetery, Argyll. It's maybe safe to say that the tune he seemingly fancied will outlive anything material that marks his time lived. As Lachlan MacNeill Campbell found – as will we all – you can't take it with you.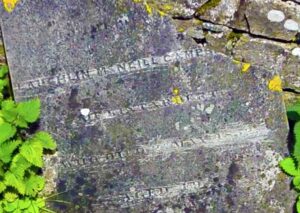 So on the back of a well-known English language aphorism, a segue to the Gaelic proverb (well, in English): the world will end but love and music will endure (Thig crìoch air an t-saoghal, ach mairidh gaol is ceòl).
Here's to the memory of Lachlan MacNeill Campbell; marked so well this day by piper Connor Sinclair.
M.
No Comments yet
Sorry, the comment form is closed at this time.
Dunaber is using WordPress customized and designed by Yoann Le Goff from A Eneb Productions.

Entries and comments feeds. Valid XHTML and CSS.