September 24, 2020 on 7:57 am by Michael Grey | In
Photographs
,
Stories
,
Tips
|
Comments Off

on An ardent epitaph
I was recently part of a very small group of people who were lucky to have a private expert tour of a few choice corners of Bruce County, Ontario. Bruce County is Ontario's largest county and – as the name might suggest – magnetic for many of the settlers of The Clearances – and even later. With verdant, rich arable land (well, after newcomers found their way to fell the massive trees, haul the stumps and clear the stones) the county is full of echoes of Scots and Irish immigration.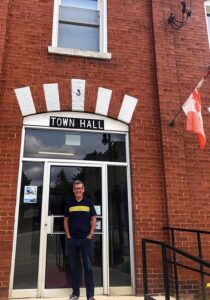 The county holds many fine places to visit – if not live (have a look at rural house prices) – and, in its stoic prosperity, stands as a testament to the hard graft of the people who shaped the land not-too-long-ago.
In driving the roads and walking the streets of the villages you can still feel vibrations of lives lived before. The shuttered railway hotel, the familiar town-centre cenotaph and the quiet, cared-for thoroughfares speak to the character of the place – then and now.
And when it comes to understanding character and the cut of the gib of any place its hard to beat the good old cemetery. The cemetery isn't often called "the dead centre of town" for nothing. Cemeteries mirror the local community they support. Their grave markers offer up historical insight to lives lived long, lives cut short and, in the occasional epitaph, a little sentiment.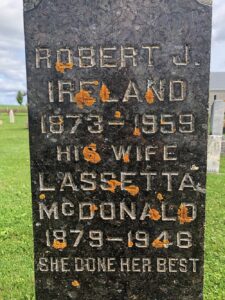 Consider Robert Ireland (1873-1959): he outlived his wife and so was gifted the liberty to publicly honour, Lassetta McDonald (1879-1946), daughter of Scots-born, Roderick. So what timeless words to chisel? "Rest my beloved", "Forever in my heart", "When I lost you, I lost me"?
Nah.
Ireland composed a line of four sober and pragmatic words: "she done her best".
In the clear light of day I'd have to think his words offer the highest praise anyone might receive.
God bless Lassetta.
M.
PS. Bob Worrall (tour guide) pictured above in front of the Teeswater Town Hall, the place of his first piping lessons.
No Comments yet
Sorry, the comment form is closed at this time.
Dunaber is using WordPress customized and designed by Yoann Le Goff from A Eneb Productions.

Entries and comments feeds. Valid XHTML and CSS.