May 26, 2020 on 12:20 pm by Michael Grey | In
News
,
Shout Outs!
|
Comments Off

on Scott Garden's new book of music: Duality 2
I decided a long time ago that I wouldn't review anything I didn't like. In fact, any "review" I committed to would be more of a "shout out", words of support and one way to help get a project more attention. The piping world is a small one and negativity in reviewing a project is, as some say, juice that is just not worth the squeeze.

So, it's good to say, two years after his first book, Duality, Scott Garden's Duality 2 is ready to hit the presses (post pandemic). I got hold of an advance version and as you now know, I like it. It's a substantial grouping of music. Scott's a creative music-maker and this book is no light-weight collection of "popular airs and waltzes". My intention to quickly turnaround a few lines of backing found speed bumps aplenty in Duality 2's recurring technical and rhythmical complexity.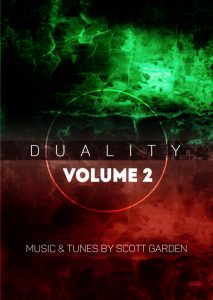 Scott's a multi-instrumentalist. His fingers know their way around more than the holes of the pipe chanter of the Great Highland Bagpipe. As an expert player of the whistle, flute and a variety of smallpipes he is armed with knowledge of a wide swath of traditional music approaches. The ambitextrosity of his technique has surely informed the technical construct of many of his tunes. The accessibility of the music spans a wide range: there are some fine tunes for the inexperienced player (The River Irvine and The Bairn's March are excellent examples) and there are some monster finger-busters that might make a grown person cry. The aptly named, The Dementor, a sprawling sort of strathspey in four parts, might just do that (pass the tissue):



You'll note the appearance of C and F natural fingering (F played with E finger closed; C played with B finger closed). There are a number of compositions in Duality 2 that include this fingering approach. While beloved by Breton bagads, to the mainstream piping world (if there is such a thing) C and F naturals have been largely ignored. The right chanter with the right reed – and well-practiced technique – are prerequisites to successfully carry off any portrayal of the natural version of the Great Highland Bagpipe chanter's C# and F# notes.
Scott's sole offering of piobaireachd is the intriguingly named, The Thief. Here he, again, calls on the use of C and F naturals. I can imagine my early teacher, John Wilson, rolling in his grave at the prospect (and any number of living aficionados waving their fists in the air – at least). To the artist the muse calls and this is – naturally – what's happened, and so, too, a soul offering of piping's big music. Like so many complex compositions this is one of those pieces that takes close attention to take in and appreciate.
The crunluath variation is unique in offering rolling triplets that intertwine with the tune's theme.

I wonder, too, to the identity of the eponymous thief. Whatever was taken merited significant musical posterity.
Scott Garden's Duality 2 is the work of a thoughtful and original musician. While there are tunes to test the limits of the pipe chanter scale, even beyond C and F naturals (see The Seagull with the Broken Wing should you care to play a fine jig that features a low F#), there's a satisfying variety of tunes that fairly roll off the chanter. Among these the 6/8 march The 1st Troon Boy's Brigade's Salute to David Clark and competition-style 2/4, The Irvine & District Pipe Band 35th Anniversary leap forward, with the 2/4 show-casing an especially creative final part.


There's a good ceilidh's worth of driving reels and hornpipes, too. The Coming Storm, The Warrens and Working for Coke (the composer notes coca-cola) might top a to-learn list.
For a pipe band looking for a ready-made pipe corps orchestration Scott offers up Running to the Devil (the title, he advises, "comes from a lyric in the Nina Simone song Sinnerman"). The suite is presented in eleven sections with multi-part harmonies of varying degrees of intricacy. The whole piece is compelling. I look forward to one day hearing it in its full.
Scott's Duality 2 is a substantial work. The high degree of intensity and intention needed to bring to life the book's many disparate (and attractive) ideas and concepts is something to be admired. Juice that was well worth the squeeze.
While you'll have to wait for the Covid-19 pandemic to wane before you can buy your own print copy you can still have a taste of what's to come in Duality 1.
You can purchase Scott's first book here.
M.
No Comments yet
Sorry, the comment form is closed at this time.
Dunaber is using WordPress customized and designed by Yoann Le Goff from A Eneb Productions.

Entries and comments feeds. Valid XHTML and CSS.