November 28, 2019 on 2:02 pm by Michael Grey | In
News
,
Pipe Bands
|
Comments Off

on 100 Years of Pipe Band Music (Survey)
In listening to a recording of the 1947 World Champion, Bowhill Colliery Pipe Band, I got to thinking about the many, often dynamic, changes that have come to pipe band music over the last 100 years. From music to pitch and overall sound the transformation of the art form over a relatively short period has been remarkable. You can hear Bowhill Colliery here.
Bowhill's march, strathspey and reel is interesting – if not the easiest listening – in part, because parts of tunes have not been repeated to fit the 3 minute and 30 second recording limit of the polyvinyl chloride (PVC) 78 RPM record. This is from a Beltona production recorded their winning year. Their tunes: Highland Wedding, Athole Cummers and Mrs MacPherson of Inveran.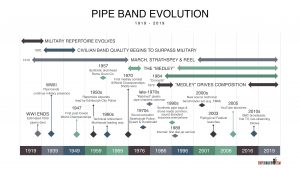 I imagine I could sit in some isolated garret and gamely whip up a fair view of the musical transformation of pipe bands over the course of a century. The problem, I think, is that this would show my biases (and probably be really cold and uncomfortable).
My biases, like anyone's, are all sowed from experience: the musical and cultural touchpoints of an upbringing, including the timeline where they happened; bands where there's been membership, teachers and mentors encountered and how often I was spanked as a kid. Wait. Maybe not so much that. I am interested in a view of the pipe band evolutionary path beyond the one I've tromped.
So. A survey. It's the best thing I could come up with to get to the heart of the matter. To help indulge my curiosity – and – assist with a project I'm hammering at, it would be much appreciated if you might take a few minutes and rattle out your thoughts on "pipe band evolution over the last 100 years".
Included here is a 100 year timeline (my bias). I initially thought this century-long look would be more focused on music than events. My thinking shifted when I considered my opinion might come across as leading – or misleading. So I resisted noting what I considered to be musical markers and high points and stuck mainly to events. I provide it here as a reminder of bigs things that happened, just to get you thinking about the music that evolved – and evolves.
Feel free, of course, to pass this along to anyone you think might be interested. The more who participate the better the outcome!
I'll be back to you with a summary of any info received.
Thanks in advance!
M.
No Comments yet
Sorry, the comment form is closed at this time.
Dunaber is using WordPress customized and designed by Yoann Le Goff from A Eneb Productions.

Entries and comments feeds. Valid XHTML and CSS.