October 10, 2019 on 7:08 am by Michael Grey | In
Humour
,
Photographs
|
Comments Off

on A Line Up of Knees
I was talking to John Walsh the other evening and learned – among other things – he had one brand new knee. It was last week in New Glasgow, Nova Scotia when his plastic patella was, er, planted. Like so many procedures of this kind there's no shortage of discomfort in recovery.

John's given me the go-ahead to pass along a little story that went with the big day: In pre-op, surrounded by surgeon, anesthetist and nurses, John is asked the (seemingly) usual routine questions, including: "What do you do for a living?":
"I make bagpipes and things". Everyone has surgical masks on but one says, "You're John Walsh, the bagpipe guy!". "Yup", says John. What follows is a veritable chorus of, "We're pipers, too!".
Not one but THREE in the group were pipers. We're everywhere.
John mentioned the photo below. The pic was taken sometime in the 1990s and shows off knees galore. That's a rickety segue from John's knees story, but it will have to do.
The pic was taken at the Alma College field in Alma, Michigan, USA – home of the annual late-May games.
In the photo – L-R – Jim Wilson, Sandy Jones, Reay Mackay, me, George Lumsden (with his shopping in hand) and John Walsh.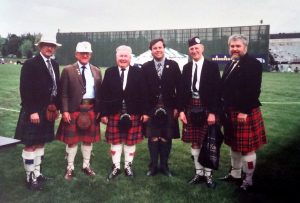 No Comments yet
Sorry, the comment form is closed at this time.
Dunaber is using WordPress customized and designed by Yoann Le Goff from A Eneb Productions.

Entries and comments feeds. Valid XHTML and CSS.