December 17, 2018 on 10:29 am by Michael Grey | In
Shout Outs!
,
Stories
|
Comments Off

on New Book: Young MacCrimmon and the Silver Chanter
I picked up the new children's book, Young MacCrimmon and the Silver Chanter as a Christmas present for a (lucky) kid on my list. It's a rare book that doesn't gift its reader some new insight or bit of knowledge. Written by Mick Broderick and Robert Wallace and illustrated by Norman Matheson, this children's book didn't fall short: I was reminded that the late Broderick stood as a great Scottish tradition bearer and found piper-solo-piping-judge, Matheson, to be an outstanding illustrator – and so, an artist beyond his piping.

The book reshapes the story of a young piper – that would be young MacCrimmon – bewitched by a fairy and given great musical powers. Like almost all good things, the fairy's gift is conditional and therein lies the heart of the story. It's a good one.
Wallace has deftly added much to the bones of Mick's story, one Broderick apparently heard first from his granny in County Antrim. You can hear the Silver Chanter tale here in Mick's own words.
There's a great playfulness to the story laid out here with a fun cartoon eavesdropping artistic device, "Mischief Maisie", who bleats one-liners from the corner of nearly every page turned ("stop cryin' ya big baby").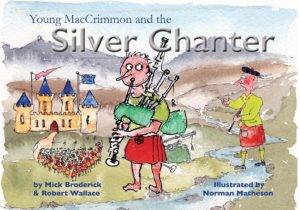 The book is especially tailored to young primary school-aged kids. There's even a quiz at the end of the story to test short attention spans. I managed a solid-ish 6 out of 10.
As a story set in Scotland about a legendary piper who eats haggis and goes to battle with his clan chief you'd have to say the book ticks all the boxes as a new Scottish children's classic. Not just that, a great new staple for the High Street tourist shops.
I suggest rather than softcover a hard, perfect bound production run for future editions.
M.
No Comments yet
Sorry, the comment form is closed at this time.
Dunaber is using WordPress customized and designed by Yoann Le Goff from A Eneb Productions.

Entries and comments feeds. Valid XHTML and CSS.