November 17, 2015 on 5:05 pm by Michael Grey | In
Photographs
,
Stories
|
Comments Off

on Memories of Ed Neigh
A few words here that I had the honour of passing along at this past Sunday's Celebration of Ed Neigh's Life in Kitchener, Ontario.

It's an honour to be given the chance to play a few tunes today in memory of Ed Neigh.
I've known Ed for as almost as long as I've been playing these pipes: not as long as some of you, but longer than many of you are in years.
Like any one of us, there are many facets and sides to Ed: the son, the brother, the father, the family man, the teacher — and, of course, the piper.
As you might expect the side of Ed I knew most was Ed the piper.
As I pause to think of Ed Neigh I see a very clear and bright reflection of the embodiment of passionate musical intensity. Ed was a living, breathing music machine.
I have yet to meet a more dedicated musician of any kind. And when we think of the crazy OCD-like world of pipers – well, that's saying something.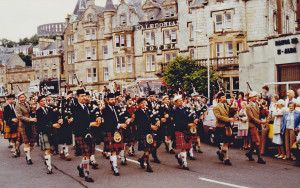 He was a seriously bright guy with a big intellect and I wonder if Ed didn't sometimes process the world through the lens of pipe music.
You could be with Ed on a plane, on a train, on a boat, in car – and I speak from direct experience here – and you could be talking about the most ordinary of things – so that, of course, means not about bagpipes – and he'd easily segue – without mercy – to a piping-related thought or quip.
"Geez, Ed how DO those Mennonites manage with their horse and buggies in the winter?"
"Well, I'll tell you what MacFadyen thought of those Mennonites …" a perfect self-made cue to sing a line from one of his great piping idol's [John MacFadyen] pibroch interpretations.
And when I say sing I mean "sing" – with lower case 's' – Ed was the standard bearer for the GPCSC: Great Piper Crappy Singer Club – a group with a big international membership. While his vocal range went something like loud to louder it never got in the way of his life's work – second to his family – Ed was a supreme and gifted teacher – especially of the Great Highland Bagpipe.
Of the Gaelic words I know one of my favourites is "mactalla" – meaning echo. The literal translation refers, I believe, to the "son of a sound" or "offspring of a sound". Poetic, isn't it? To give a human quality to a reverberation.
In the thoughtful giving of himself, in his passionate teaching, through his generosity – and yes, in his singing – Ed Neigh has left us with many lively, lovely, long-lasting reverberations.
We hear them today: echoes, offspring of the sounds made by the man himself, that will last a very, very long time.
No Comments yet
Sorry, the comment form is closed at this time.
Dunaber is using WordPress customized and designed by Yoann Le Goff from A Eneb Productions.

Entries and comments feeds. Valid XHTML and CSS.