September 13, 2015 on 6:56 pm by Michael Grey | In
News
,
Random Thoughts
,
Solo Piping
,
Whinges
|
Comments Off

on Clachantrushal [say that three times fast]
There are a couple of instances where people might talk and, so, where I find myself more riled up than other times: those that get me going more than almost any other: the first, the georgebushian "nucular", for nuclear (as in war and bombs) and the second related to the pipe tune, "Pipe Major Manson's Farewell to Clachantrushal" for "Major David Manson AT Clachantrushal", the later being the accurate and right name for this bagpipe 2/4-timed march – played always and often in bagpipe circles.

Why the bother, you ask? And get a life – I hear you.
I think, first, if I was true to myself and fessing up, well, it's a parochial [Great Highland] bagpipe thing: it's just not permitted in our little world to have perceived errors in fact or musical score portrayed as otherwise in any situation – dammit. Along with that, this tune is played a lot, and in name, represented wrongly – a lot.
The second? As a guy who makes tunes from time to time it bugs me that people frequently screw with titles – tune titles. To pipers (and some publishers) tune titles mean little and, generally, and are forgotten often.
Not many tune titles happen by accident and all of them are there to represent something important to the composer, and, in turn, the star of the tune – be that a person, place or thing.
And so, did the melody in question – composed, in this example, by Donald MacLean (Lewis) stand as a "fond, emotional farewell" or a "geezuz, for gawd sakes, yer still here?" commemoration [yes, Donald MacLean of THAT 6/8-timed march by Donald MacLeod]?
Here's the frontispiece for the small two-tune folder published by Glasgow's College of Piping in the 1950s; just to keep us right.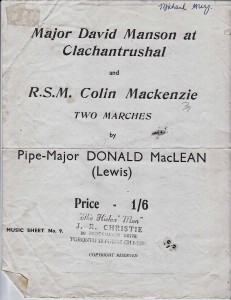 And a few words on the composer, Pipe Major Donald MacLean, courtesy of www.pipetunes.ca:
"On June 12, 1940, he, along with the likes of Donald MacLeod, John Wilson, George McIntyre and many other pipers in the 51st Highland Division, were captured in France at St. Valery. He would spend the next five years as a prisoner of war in Germany and Poland. It was during this time that he wrote his famous competition march "Major David Manson at Clachantrushal" on a practice chanter borrowed from fellow piper Alex Craig. David Manson was a retired officer of the Canadian army who worked as a Glasgow silversmith. He had visited Donald's home before the war and gave him a set of engraved silver pipes. "Clachantrushal" refers to a monolith – said to be the largest standing stone in Scotland – that stands near the home."
Clachantrushal: A place, it seems, to be "at" and not "from".
And get those tune titles right.
M.
No Comments yet
Sorry, the comment form is closed at this time.
Dunaber is using WordPress customized and designed by Yoann Le Goff from A Eneb Productions.

Entries and comments feeds. Valid XHTML and CSS.