March 15, 2015 on 7:07 pm by Michael Grey | In
Photographs
,
Pipe Bands
,
Solo Piping
,
Stories
,
Tips
,
Video
|
Comments Off

on Cowal Games 1929
Say what you like, but I've always liked Cowal Games. Of those I recall, my memories are nothing but the happiest – or – at least – really good. OK. Not always, "really good", but memorable. Yes. Memorable. Well, mostly memorable, but usually fun. Cowal, as much, if not more, than other contests, has given me some stuff to remember. I've socked it all away and stand today with a good few stories to regale the unsuspecting at the drop of a hat. Cowal Games: you rock.

And here's a seriously old school look at the games, a glimpse, really. But, still, a picture's worth a lot of words, and these brief moving images don't disappoint.
Have a look at this picture of confidence: a young person marching up a storm – around 104 beats per minute if we were to go by the tempo the film suggests (and I'm fairly sure that tempo wasn't happening this day on the boards; today our contest marches are between 66 – 72 beats per minute) – and – this young person is female. How great is that – in 1929. Imagine. Solo piping in those days, like politics, medicine and law, was the domain largely of men.
I thought I might figure out what she was playing by slowing down the video. No luck there, the quality is just too poor, I think. We see lots of top hand technique so maybe she was playing parts two or four or her march? [Piping nerd alert! Piping nerd alert! I can hear it now]. I say this person can play. Drones tuning in the right – visual – places (not grinding the ivory); she is carrying herself with confidence and her hands appear to be seated on the chanter in all the right places. This girl has technique.
It is interesting to see the highland dancing snippet and the piper playing the tunes: the piper is clearly female. Was it this piper who may've been one of the big winners of the day? We know that in pre-1960s times, piping for dancing was most often provided by those who saw prizes in the solo contests – lucky them.
Over eighty years have passed and still we see that the Dunoon games grounds haven't changed much: there's the stands, the entrance to the infield where pipe bands advance to their "competitive arena". I love that. There's not a lot of places around where generations can take in and experience (piping – or really anything, for that matter) and pass it along, or share the experience, with others – all in the same geography. I think we often underestimate the power of this simple, yet monumentally impactful action.
While not wanting to end this entry on a big downer, I guess I will. Comment has to be made regarding the four man (!) solo piping judge's panel – and one guy appears out of line. Have a look: this guy is either sneezing or attempting to speak to one of his fellow judge guys behind his hand. And from the look of the fellow he's attempting to talk to, I suggest it is not sneezing. Hand Guy might've been saying, "bloody hell, this woman can play", or something less positive. We'll never know.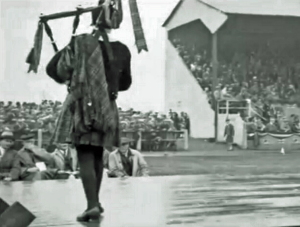 But, I will say: if anyone should ever find themselves in a situation like this trail-blazing piper of 1929 (however unlikely), there's only one thing for it: contact the Competing Pipers Association – and let them know.
M.
PS. Cowal's contests were the World Pipe Band Championship equivalent at this time. The winner of Cowal's 1929 premier grade was Glasgow Corporation Tramways under Pipe Major Gavin L Robertson – a person and a band, sad to say, I know nothing about.
PPS. It looks like the rain was on for a part of that day.
No Comments yet
Sorry, the comment form is closed at this time.
Dunaber is using WordPress customized and designed by Yoann Le Goff from A Eneb Productions.

Entries and comments feeds. Valid XHTML and CSS.