March 8, 2015 on 6:20 pm by Michael Grey | In
News
,
Pipe Bands
,
Stories
|
2 Comments
Here's a curiosity: a long-ago-redeemed copy of a cheque. Usually such a thing isn't much interest except maybe for keen auditors (redundant, I know; of course, all auditors are keen), but this image is one for the few pipe band historians around: this is a copy of the cheque that paid out first prize to the 78th Fraser Highlanders at the World Pipe Band Championships in 1987.

A lot of you know the basic history but as I travel around I increasingly find people aren't aware of piping history, even past history of five or ten years – forget 27 years. So, in 1987, this band was the first non-Scots band to win the World Pipe Band Championship. Yay.
Right, so here it is: £300. Forget the scores of countless thousands of pounds invested in the win, I can tell you from experience that this sweet prize went a long way to buy a great many gloriously golden flats of Tennent's and about 40 fish suppers. I really don't know what grade one bands win today. It's not advertised as far as I know.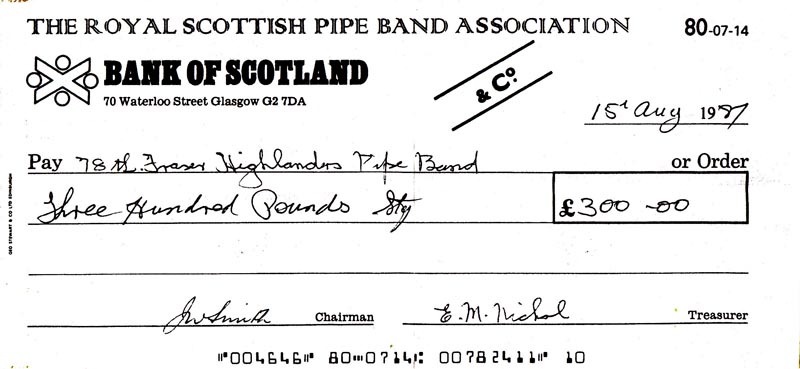 And so, does anyone aside from the deft Richard Parkes – and some of his team (and, of course, the cheque signers)?
In a way, I don't think it matters. This afternoon breaks the freezing mark for the first time in 1000 days, as in this Sunday March afternoon in Ontario, and the sun shines in the most promising way, and I set aside all my usual crabby/crabbit whinging about universally rotten prize money. I can only say that the cash that lands in a band's kitty for winning the worlds finds a way, once in hand(s), to feel like it somehow magically multiplies 100-fold in value.
And for the record: £300 in 1987 money is worth about £770 today" – and today that's around $1460 Canadian dollars.
And that is all (and that was all).
M.
2 Comments
£300 for first and six prizes so I'm thinking SFU got £250 for 2nd prize, but that mere £50 in no way describes the gulf of feeling between the two prizes. In retrospect, 2nd was pretty good, but not then. Seems just like you to have a copy of the cheque. Nicely kept!

Thanks, Iain. Dunno. Any way you cut it, the dough was pretty crap (as you suggest). The band manager and playing tenor drummer at the time, Andy Wallace, made a photocopy of the cheque and passed it along to those interested. The copy, I think, was meant to turn up in the future on a yet-to-be-invented global internet thing.

Comment by Michael Grey — March 9, 2015 #
Sorry, the comment form is closed at this time.
Dunaber is using WordPress customized and designed by Yoann Le Goff from A Eneb Productions.

Entries and comments feeds. Valid XHTML and CSS.