September 2, 2014 on 5:27 pm by Michael Grey | In
Pipe Bands
,
Tips
|
Comments Off

on Advice to Pipe Majors (from Madonna)
It strikes me that when we look for fresh eyes on a problem and a new way of tackling a challenge, it's not always such a bad thing to look for insight – if not answers – from places beyond the usual. For pipe bands this is New Years; the competitive season is over (for those of us in the Northern hemisphere) and so a new pipe band day dawns. And for Pipe Majors – the hardest working people in the pipe band world – it's the time of year where reflection is deep and decision-making and planning can take a lot of energy.
So why not look to Madonna for answers? "Why not", I say!

She's one of the most successful people in the world. She's a musician, an entrepreneur and as evidenced by pretty much all her winning efforts, a top line project manager. Madonna has the cut of a Pipe Major about her: single-mindedly focused, sure of what she wants, a driving musical passion and pretty good with people – especially if you're good at what you do. She also seems to like the bagpipes. After all, she cherry-picked one of our finest in Lorne Cousin to tour with her and bring the bags to the masses so, yes, let's look to Madonna Ciccone for inspiration for our Pipe Majors – again – "the hardest working people in the pipe band world" (I promised one PM I know I would say that at least twice at some point in my life).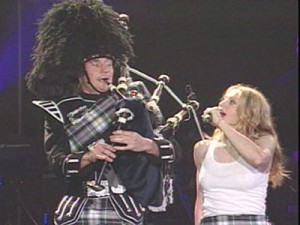 Madonna: "I laugh at myself. I don't take myself completely seriously. I think that's another quality that people have to hold on to… you have to laugh, especially at yourself."
PMT (Pipe Major Translation): Don't take yourself too seriously. There's a lot more things in the world more important than pipe bands (water, breathing, Lamb Rogan Josh). Keep focused but keep perspective. It will only help if from time to time you just throw your head back and laugh.
Madonna: "I stand for freedom of expression, doing what you believe in, and going after your dreams."
PMT: It's unlikely you're Pipe Major of the band you lead by accident. You've most probably sought the post out, or imagined it to happen – you may've even dreamt of the four stripes. Sometimes you may've found yourself in this leadership position by some twisted turn of fate – and so, you need to embrace it. Bring your musical vision to life. This is the gold on offer in any leadership position. Just do it.
Madonna: "Sometimes you have to be a bitch to get things done."
PMT: Most – but not all – Pipe Majors I have known have struggled with this, a completely natural desire to keep in with the guys, to be well-liked, to be "one of the boys – or girls." I count myself as exhibit "A" in this regard. I've always struggled with dropping people and letting people know that it's just not happening on the day. I gots the weak PM gene. It's damned rotten work. But you have to make the hard decisions for the sake of the team – the greater good. Be fair. Be firm. Yeah, you're not running a nursery school but people are people and in pipe bands they're mostly grown up.
Madonna: "We learn our lessons; we get hurt; we want revenge. Then we realize that actually, happiness and forgiving people is the best revenge."
PMT: You will run in to whack-jobs. In pipe bands there are rotten pipers and drummers, great pipers and drummers, vagabonds and thieves. It's a true slice of life. People will run you down. They will run your band down. They will make stuff up. They will almost wear you out. Madge has it right, though it's freaking hard to carry out, "… forgiving people is the best revenge".
Madonna: "We all fall to the floor at some point. It's how you pick yourself up that's the real challenge. Isn't it?"
PMT: It's about grace – the more amazing you can be at it, the better.
Madonna: "In the blink of an eye everything can change! Why waste time? ‪"
PMT: Enjoy the journey. And why waste time? Persevere. Carry on.
And all this thanks to the wise and wonderful "M" (not talking me, of course) 
M.
No Comments yet
Sorry, the comment form is closed at this time.
Dunaber is using WordPress customized and designed by Yoann Le Goff from A Eneb Productions.

Entries and comments feeds. Valid XHTML and CSS.