February 17, 2014 on 7:40 pm by Michael Grey | In
Delightful Data of the Day
,
Photographs
,
Pipe Bands
,
Stories
|
Comments Off

on The Australian Ladies
Here's a neat old picture: a postcard from 1926. Here we have "The Australian Ladies". The inspiration for William Fergusson's great pipe tune.

"The Australian Ladies", you'll know, is a famous pipe tune written by said Pipe Major Fergusson, the gifted composer and pipe major of one of the first shit-hot, back-in-the-day [1920s], civvy bands, Glasgow's Clan MacRae Society [see the 2/4 march by the same name that pipe bands love to play – "Clan MacRae Society" – yet for some reason, cause it's my blog, I have to say, I just can't appreciate].
We see from this that "The Australian Ladies" were all ladies (Drum Major aside, as far as we can tell) and all "Australian-born". What a great novelty story for the time: "female pipe band from Oz travels to the UK". They must've been something special to have Harry Lauder as patron – he was as famous back then as our Madge is today.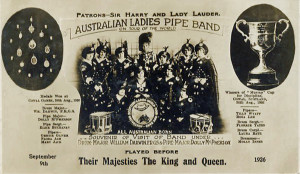 Pipe bands on postcards: remarkable, really. Who would have thought anyone would have cared.
I think this is a great look-in to the novelty and status of pipe bands of the time and – really – more importantly – the novelty of trans-Atlantic travel … especially by an all-female band of the 1920s – all the way from Australia.
In the 1920s it was a 30 to 40 days sail to the UK from Oz! Think about the commitment.
"The Australian Ladies": a really great march in 2/4 time, too. Makes a fine fiddle tune – fiddlers, especially in Cape Breton, love it.
And the band's pipie, Dolly McPherson: surely the best Pipe Major's name ever.
M.
No Comments yet
Sorry, the comment form is closed at this time.
Dunaber is using WordPress customized and designed by Yoann Le Goff from A Eneb Productions.

Entries and comments feeds. Valid XHTML and CSS.