December 21, 2013 on 8:35 pm by Michael Grey | In
Delightful Data of the Day
,
Random Thoughts
|
4 Comments
Ha! You might have read the heading of this post and thought of a super-festive polka step, Ã  la Ebeneezer Scrooge at the height of redemption; maybe stompy snow-removal attempts at the entrance to an anticipated Christmas shin-dig, one where you enter the room with snow-covered shoes and hope-to-hell you're not asked to unveil your stinking socks (and the feet they conceal). No. This post is philatelic, that word you use never and the the kind of stamp you, um, lick (or did, back in the day).

Offered here: what is generally believed to be the world's first "Christmas" postage stamp. I know you've waited your lifetime to know this juicy fact and for that I'm at your service. Here it is – the world's first Christmas postage stamp: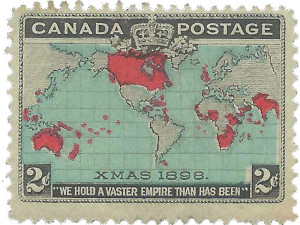 A joyous Christmas along with nationalistic cartography: goes together like salt and pepper, horse and carriage, pipe and drum – who knew? Christmas and cartography: inexplicably connected – or so it seems.
M.
4 Comments
Sorry, the comment form is closed at this time.
Dunaber is using WordPress customized and designed by Yoann Le Goff from A Eneb Productions.

Entries and comments feeds. Valid XHTML and CSS.