March 29, 2013 on 3:59 pm by Michael Grey | In
Random Thoughts
,
Solo Piping
,
Stories
,
Tips
|
Comments Off

on Tip #1: Be There
Not so long ago I was talking to Colin MacLellan. He was telling me (among other things) about one of his fairly recent bagpipe lesson experiences [sorry, CRM, hope this wasn't secret]. Anyway, his story involved bagpipes, teacher, student and iPhone.

Apparently, during a private lesson at Colin's place his pupil reached for her phone and, as Colin was passing on hard-earned insight into the way of pibroch, his pupil reached for her iPhone and starting texting. TEXTING at a piping lesson! Holy feck. I can't imagine.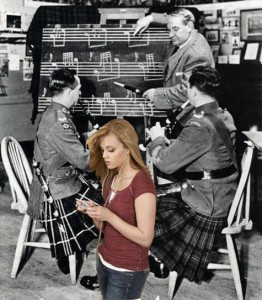 Colin was quick to nix the texting. I was incredulous ["ooooh, incredulous!"]. And didn't I experience the same damned thing just the other day while doing my best to pass on what I was able during my own lesson.
I don't really think young piping people – or maybe just young people – think too much about it. There's an obsession to check the phone, to respond, to make sure they know their friends know they're alive. But when it comes to the phone thing, do what you like, wear your thumbs red raw, just don't do it during a piping lesson. It's a sure-fire strategy if you're looking to get fired.
Be in the moment. The moment is what's real.
M.
No Comments yet
Sorry, the comment form is closed at this time.
Dunaber is using WordPress customized and designed by Yoann Le Goff from A Eneb Productions.

Entries and comments feeds. Valid XHTML and CSS.