March 3, 2013 on 7:13 pm by Michael Grey | In
Delightful Data of the Day
,
Random Thoughts
,
Stories
|
2 Comments
I recently started teaching a young fellow in town [and to give you an idea of how close he lives to me this is what he said at his last lesson: "I see you were having work done on your house this week…" Welcome to small town life.] Anyway, he's a keen piper (redundant words, I know) and full of enthusiasm to move forward, to get better.

We were talking the other day. I asked him how much he practised.
And what follows is pretty much how the conversation went; and get ready for a surprise ending …
"About a half hour a day", he said. I told him that wasn't enough. He needed to bump that up to at least an hour.
He then said, "Well I've always been good at regular practice – expect for a three month time last year."
"What do you mean?", I ask.
"Well, I broke my neck and couldn't play."
Gulp.
Now this kid is the picture of teenage health – no sign of any illness, let alone a broken neck.
He then proceeds to tell me in the most nonchalant way the story of his broken neck. It went something like this:
"Me and my friends were playing around on a trampoline at a summer party in Lynden. I was jumping on the trampoline and fell; my ex-girlfriend was jumping, too, except she landed on me. I could hear my neck snap. I felt weird and knew something was really wrong."
And here is the kicker:
"The first thing that went through my head was, 'will I play the pipes again?' – the second was, 'will I be able to walk?'"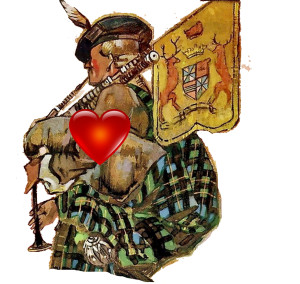 Now isn't that something? To walk or to pipe? Breaking your neck must stand as the ultimate acid test for true love of the pipes.
His story has stuck with me. Like most stories and like most things that happen to others we know, they, one way or another, find a way to reflect on us – and we, of course, reflect: "how would I handle that?", "what would I do?", "could that happen to me?". And so it goes. I've thought about his story more than once since his telling – and I told him so yesterday at his lesson – at the same time he gave me permission to pass along to you.
So there you have it; take from it what you will.
M.
2 Comments
Cool story. On what I think is a related note, when people ask me now if the pipes are hard to play I invariably respond by saying that I don't know because I've been playing so long that its kind of like breathing – I don't really remember when I couldn't do it… Of course, breathing is (so I'm told!) pretty essential to being alive … which is kind of what I took to be the thrust of your post. That is, the essential part music (specifically bagpipe music) comes to play in making one's life more meaningful. Enjoying the blog.
Regards, Roderick

Comment by rwmac78 — March 5, 2013 #

Thanks, Roderick – and you're right: anyone who has played long enough really can't fairly answer the question, "are the pipes hard to play?". In a way we're cursed as much as we're blessed. Damned pipes! 🙂 M.

Comment by Michael Grey — March 5, 2013 #
Sorry, the comment form is closed at this time.
Dunaber is using WordPress customized and designed by Yoann Le Goff from A Eneb Productions.

Entries and comments feeds. Valid XHTML and CSS.