February 23, 2013 on 6:48 pm by Michael Grey | In
News
,
Pipe Bands
,
Tips
,
Whinges
|
Comments Off

on Suck In and Buckle Up
I was talking to a friend the other day about flying. He's one of those people who flies a lot. Not because he has scads of spare cash to holiday, rather, it's all about visiting family – far flung family. Circumstances in his life sees most of his clan at the other side of the world. For him, like so many, flying isn't a luxury, it's a utility.

Like hydro, water, gas, phone and the Internet, I suggest flying is a utility for a huge swath of people – at least, in the western world. And the world's airlines know it, at least, they sure do in Canada. With their figurative corporate shoe horn they seem to more and more look to squeeze our (often) fat arses in their leatherette seats.
Yeah, I know I chundered on about flying in my last blurb, but here we are, and the flying subject continues. For good reason: many of the world's pipers and pipe bands outside of Scotland are now looking to find, or book, their way to the various and assorted late-summer Scottish gatherings. Like pipebandsmen to an open bar, the big Scottish contests are magnetic to pipers and drummers. And they're not always easy to make happen. Money's often tight and year-after-year Caledonian jaunts wear big-time on the family budget.
Still, passion breeds sacrifice and the Scottish adventure invariably happens (I mean, who really needs to save money for retirement?).
Enter Air Canada's recent pronouncement: new "low-cost carrier to fly in July [2013]" and Edinburgh is a destination – sounds great! After 10 years or so Air Canada finally finds a way to fly direct to Scotland – Scotland! The source of so (so) many of our founding people. But read the fine print – any Scottish banker would tell you that – check out the travel conditions: Air Canada's new cheapie trans-Atlantic airline, "Rouge", compared to standard Air Canada seating rules, has dramatically different cabin conditions.
Suck in your stomach, squeeze on your spanx and have a look:
Standard international flights on Air Canada offer economy class seating with a seat pitch of 31 to 33 inches [pardon the metric gap, I'm using airline lingo]. Seat width varies at 17 to 19 inches (17 inches! An impressive measure if you're a porn star, not so much as a prolonged seating option).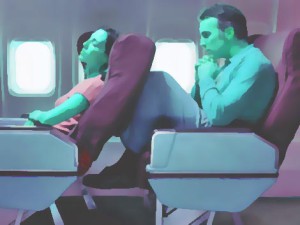 Air Canada's new Rouge airline offers 29 inch pitch and an expansive 18 between arm rests. So we see seating pitch reduced two to four inches and any futile hope for a sniff of comfort jammed somewhere in the overhead compartment. The airline buffers this thin offering by introducing something called – ca-ching – "Premium Economy" (imagine dramatic echoes when you read this). At roughly twice the price of DVT class (deep vein thrombosis) flyers are given the opportunity to luxuriate in the rarefied comfort of 38 inch seat pitch and an arse-ample 20 inch seat width.
I understand airlines are not charities in place to jet itinerant pipers and drummers around the world but isn't the move to dramatically increase aircraft passenger seating (often at the expense of lavatory facilities, by the way) getting just a little crazy?
I have to give a small shout out to the airline where my previously blogged PVI (passenger vomiting incident) occured. Air Transat – apparently named the World's Best Leisure Airline of 2012 – offers economy class seat pitch on their international flights at 32 to 33 inches and seat width of 16 and a half inches. So, I guess, when you fly economy on Air Transat you can put your fork to your mouth without pressing elbows to stomach – you just can't feel your legs since blood flow is cut off from waist down. They do offer "Club Class": seat pitch 34 inches and width 19. I have always found their crews excellent, just by the way – a great attitude.
So aside from a general airline whinge I say that when it comes to buying a seat on a plane, watch what you're buying. The cheapest seats may not be good value, especially when you consider your health.
I hope, too, that instead of a little less, the air travel market swings a little more the way of passenger health and comfort.
Caveat emptor.
M.
No Comments yet
Sorry, the comment form is closed at this time.
Dunaber is using WordPress customized and designed by Yoann Le Goff from A Eneb Productions.

Entries and comments feeds. Valid XHTML and CSS.