August 20, 2012 on 6:01 pm by Michael Grey | In
Pipe Bands
,
Random Thoughts
,
Tips
|
5 Comments
The pipe band world is many things: unmercifully competitive, aggressive, cutthroat even – and, yes, occasionally collegial. But loving and nurturing? Not so much. The last little while I've stumbled on things said in public places (read: the Internet) and am genuinely incredulous at the anger, rage even, that pipe band music can elicit from people who purport to love the music. And to be clear: it's not just the band I play in I'm talking about – it's almost every band going, especially in the premier grade. It's clearly powerful stuff we bring to the world through the wiggling of fingers and battering of sticks.

In trying to figure out this odd pipe band rage I've talked with a few [lots of] people. Exchanged email, too. No one seems to know why people freak out when pipe music is played outside what is believed to be the "acceptable pipe band music template" (or, at least, if not "freak out", actively seek out every opportunity to insult, or, better yet, offend the pipe band music perps).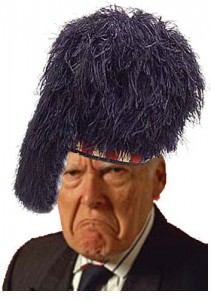 So I reflect. What is it these (mostly nameless) people say? Are there themes? Can we bucket their bile into categories [Yikes! A favourite corporate technique in problem-solving] and in so doing maybe understand the root of their issue(s)?
Here are some rage-against-the-computer-screen themes:
– The band is a show-off: They're being different just to be different (i.e. "for it's own sake")
– The band thinks they're clever but they're not: trying to be "innovative", rip off other musical forms: so "boring", so pretentious – and done so badly
– The band is full of idiots: No one in the world likes it or plays their music why do they keep doing it?
Rather than lamely attempt to respond to improbabilities, I've just concluded three things:
1. People think the worst when it comes to what makes people do what they do, what motivates them.
2. Pipe band music matters to people, especially when it's the kind of pipe band music they like to hear.
3. Pipe band enthusiasts lean to the hyper-competitive. Period. Prone, too, to the "Tall Poppy Syndrome".
Oh, and one more, courtesy of Confucius: "They must often change, who would be constant in happiness or wisdom."
M.
5 Comments
Sorry, the comment form is closed at this time.
Dunaber is using WordPress customized and designed by Yoann Le Goff from A Eneb Productions.

Entries and comments feeds. Valid XHTML and CSS.