March 26, 2012 on 6:10 pm by Michael Grey | In
News
,
Random Thoughts
|
Comments Off

on The Blog's Fifth Anniversary
April will mark the fifth anniversary of this blog. I never planned to "blog", or write about stuff and post it online, but Yoann Le Goff, the technical brains behind dunaber.com, pitched me the idea, then built the site and, well, the rest just happened. I came across an online study the other day (so definitely not scientific) and it seems something like 60-80% of all blogs that are started are abandoned after one month. Whatever. I'm surprised I've lasted five years doing this.

You may wonder what kind of readership turns up here. It varies a lot and has a lot to do with how active I am in posting fresh copy. And, yeah, I must admit, the last month has been a dry spell. The average month sees around 2,000 unique visitors (and I'm sure you are all very unique) with some months, depending on what I'm on about, seeing that number double. Modest stats but maybe not bad for an indie blog outside a syndicate like The Huffington Post or slate.com.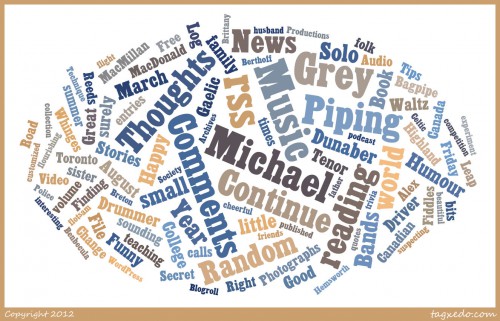 People come from all over with Canada, the US and the UK standing out as the top three countries of visitor origin. Readers land here from some of the most unlikely places with regulars from Kiev, Ukraine and Western Samoa (probably spammers, I know).
People – you – seem most interested in pipe band stuff, especially anything to do with the World Pipe Band Championship – seriously – and least interested in my cheery little quotes or bon mots; those little gems I imagine are especially thought-provoking. Oh well, pearls before swine, as the saying goes (joke!).
So there you have it. Five years.
Onwards and onwards.
M.
No Comments yet
Sorry, the comment form is closed at this time.
Dunaber is using WordPress customized and designed by Yoann Le Goff from A Eneb Productions.

Entries and comments feeds. Valid XHTML and CSS.