August 21, 2011 on 5:01 pm by Michael Grey | In
Humour
,
Photographs
,
Random Thoughts
|
2 Comments
I've had to pretty much watch what I eat my whole life. Fries and gravy, pasta and anything and pints stick to me like chrome on a trailer hitch. Maybe you can relate. The buckles on a kilt, or your pants (trousers) don't lie. It's probably the way of things for most people, I suppose. Anyway, I generally, sort of, mostly, do my good-intentioned best to keep things right.

But when on holidays? Ha! Let's face it, we rationalize. We let it go. We pork out in the name of deservedness: "I'm on my holidays! I deserve this!". OK. I say, "we". I mean me. I'm sure none of you think this way. I'm sure, when away, its all salad and mineral water for the likes of you.
So I'm just now going through my pics from worlds week in Glasgow. And I come across the stupidest picture ever (not really): a picture of a meal I was about to choke down. I remember taking this pic, feeling slightly ridiculous and self-conscious, hoping no one would notice, and, clearly remembering, too, that amateur food pics on a digi-cam always look nauseating – no matter how fantastic the real thing. I do seem to recall someone at the table saying, "WTF are you doing?"
This is lunch in the Station Bar adjacent the National Piping Centre. Across from me is Colin MacLellan, beside him is Cameron Drummond (who had just played an excellent recital at the NPC), and across from him is his dad, Ian. Allan MacDonald is sitting on a pulled up chair to my left, having just dropped in for a sandwich only minutes before the food came.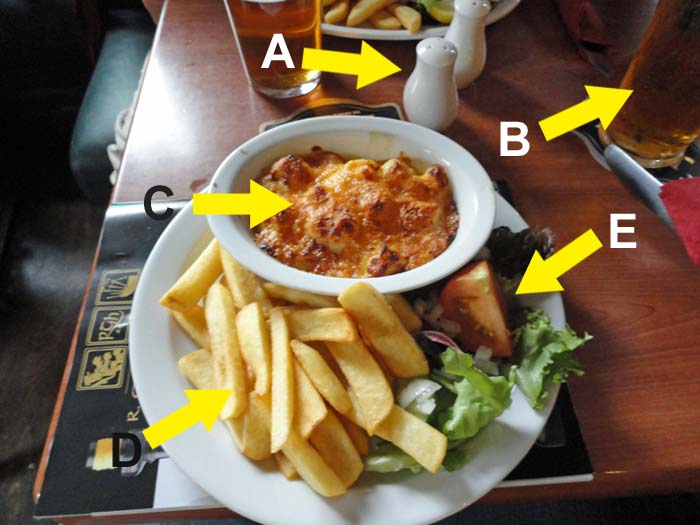 The grub here is the special of the day, "Macaroni and Cheese". It was delicious. Let's have a look at Mikie's vacay calories:
A. Salt and pepper: the real spices of life; in easy arm's reach, and ready to ensure daily sodium levels are maintained. There's no life without salt.
B. Pint of Tennant's Extra Cold. Something light and effervescent to wash down the cheesey goodness. Not just that, the heart-healthy effects of beer make men 30-35% less likely to suffer heart attacks. Slainte mhath! [240 calories]
C. Macaroni and Cheese: comfort food deluxe and full of necessary "brain food" carbohydrates. [700+ calories]
D. Chips: OK. The tipping point for this lunch. At first glance a nasty add-on. Not atall: rich in vitamin C, Iron with hints of calcium and vitamin A. Get it in ye! [350 calories]
E. Salad: The delicious tomato jumps off the plate and offers a vital anti-oxidant – and lycopene. A great benefit, especially for men in my family. And the roughage. Think of the roughage.
Anyway, there you have my August 11, 2011, Station Bar lunch. Not a meal I'd generally come across in my neck of the woods, but that's the point of travelling, isn't it?
And, anyway, food is always the second course to the company. And this time it was first rate.
Buon appetito.
M.
2 Comments
Experiencing different food/drink is one of the chief pleasures of travel. Haven't had food at the Station Bar, and would be unlikely to go with the Mac & cheese. I feel fully informed about that possibility, however, and it will likely cause me to keep walking, and go here again:
http://www.rawalpindi-tandoori.co.uk/

Amazing food, and no pics! I had the lamb tikka prepared "jal-friezi" I think it was. Amazing taste, fresh ingredients, and a pint of Cobra to wash it down. Pakora mushroom starter, nan bread, rice…heaven. The company was amazing, too.

Agree, Iain!

I know Rawalpindi and agree. Though the last time I was there one in my company (that means not me) bolted for the WC pre-meal due to over-consumption (etc) of the papadum/onion pre-order offering. Nice. M.

Comment by Michael Grey — August 24, 2011 #
Sorry, the comment form is closed at this time.
Dunaber is using WordPress customized and designed by Yoann Le Goff from A Eneb Productions.

Entries and comments feeds. Valid XHTML and CSS.