August 15, 2011 on 3:39 pm by Michael Grey | In
Pipe Bands
,
Random Thoughts
,
Solo Piping
,
Tips
|
6 Comments
The big day has come and gone. The 2011 World Pipe Band Championships will surely stand as the best ever. What fantastic virtuoso performances and delivered, too, by bands across a hugely wide breadth of the contest. Every band seemed to play varying degrees of great.

Apparently 16 "nations" participated this year, at least that's what was publicized. I know it's a "world's" event but I always hate nationalism hauled in to anything to do with bagpipes. The "World's" is a big event for us, especially in the context of pipe bands, but our world is small and our music leans to fragile. I'm not sure thinking of pipe bands or bagpipe music in nationalistic terms is awfully helpful. Einstein called nationalism "the measles of mankind". The last thing the Great Highland Bagpipe needs is a case of measles.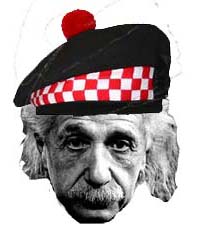 I was at Glasgow Green on Saturday and came across a fellow who played in a band from the west coast of the U.S. He thought Saturday was a great day for pipe bands in the U.S. I suggested to him that it was just a great day for pipe bands. Period. Yeah, good for the bands to do well and play well and without doubt high performance helps local scenes, for sure. But flag waving isn't necessary.
Around 30,000 people turned up at Glasgow Green and I have a pretty good idea that most of those folks were mums, dads and very-good and loyal friends. The casual pipe band-loving ticket-buying fan was pretty thin on the ground.
When we're in Glasgow, the centre of the piping world and crowds are modest for a major gathering of Scotland's music, we're reminded, I think, that things related to the Great Highland Bagpipe are delicate. It seems to me, too, that serious enthusiasts of piping and pipe bands have way more in common with each other than with many of their own countrymen.
Anyway, waving maple leafs, stars and stripes and the Gwenn-ha-du just doesn't help move the music forward.
Better to do what we can to continue to support each other without thinking so much about passport details.
M.
6 Comments
Sorry, the comment form is closed at this time.
Dunaber is using WordPress customized and designed by Yoann Le Goff from A Eneb Productions.

Entries and comments feeds. Valid XHTML and CSS.