August 4, 2011 on 7:01 pm by Michael Grey | In
Humour
,
Pipe Bands
,
Random Thoughts
,
Whinges
|
Comments Off

on Get Your Bag On
No surprise that I'm about to say I believe it's a special (different, out-of-the-ordinary, etc) kind of person who's attracted to playing the Great Highland Bagpipe. Loud, brash, hard to keep quiet and sometimes offensive – and I'm talking the instrument and not (necessarily) the player here – it seems to me shy folk are not generally attracted to playing bagpipes. Yes, exceptions to every rule but I say the bagpipe world is full the eff up with "type A" personalities (drummers included, here, too, but they're another story).

And going back over the years it seems the sheer presence and gravitas of the instrument just hasn't been enough for players; not enough to slake the thirst for attention and recognition as an example of singular out-of-the-ordinariness. No. More was needed.
Let's take a pipe band's traditional "number one" dress: ostrich feather bonnet, bi-coloured horse hair sporran, diced hose, white spats, a plaid that might double for a train at the right big royal wedding and, of course, a seven-yard wool kilt (multicoloured, of course). Could anything else scream, "look at me", more?
The true number one dress would see pipers with officer-sponsored drone banners and ribbons over cords – but let's stick to old-style civilian number ones. The bass drummer, too, and often tenor drummers, would see themselves festooned with leopard or bear skins, trophies or acknowledgements from overseas campaigns, if a military band.
With all do respect to this waning number one dress tradition [and full disclosure: I lived this for a while as a member of the Pipes & Drums of the 48th Highlanders of Canada] the old way saw pipers tarted up to the nines. But boy, is it ever an old tradition that impresses when in full flight. To this day the number one-dressed piper remains the general public's stereotypical piper image. I can hear Alan MacDonald now talking the real Gaelic tradition but let's leave it for a minute and say these Victorian English inventions, adaptions if you will, have found a place – like it or not.
Since the earliest months of this year I had it in my mind that the current incarnation of civilian pipe band "costume" – and that is what it is – wasn't cutting it. The tartan of the kilt and colour of hose were really the only items where a band set itself apart. Sporrans all leathery and head gear all Glengarry boat-like. And the ridiculous trend for "Rudolph the Red-nosed Reindeer" snowman waistcoats? It's like we're all wanting to be butlers or something. I think we'll be laughing at old photos one day soon, like we do now when looking at big 1980s hair and super-skinny ties.
What about bag covers? Surely we can do better than monotone velveteen bag concealers? We've seen leopards and ostriches thrown into the mix of pipe band gear – horses of every colour, too – what's wrong with sexing up the bag cover? Not so much – I suggest.
So. I had a zebra patterned cover made. I had four made, in fact. They look smashing [by the way, do you know smashing, like "galore" is, in fact, a Gaelic word?]. Zebra patterned bag covers are surely a tame affectation, especially when compared to eighteen inches of ostrich feathers on the bean and a few handfuls of horse hair below the belt. Er, you know what I mean.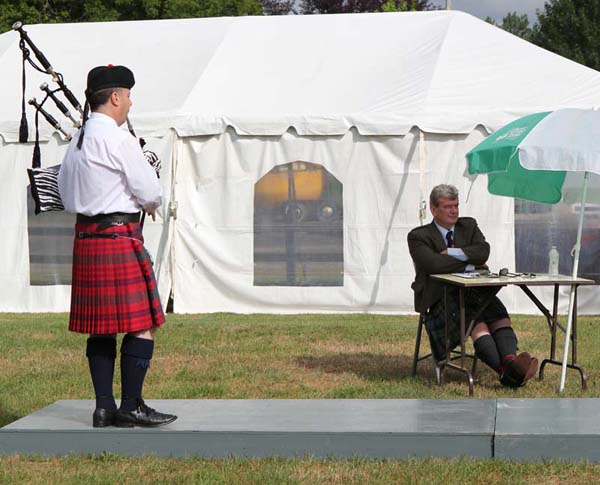 I'm on a mission to convert the band to zebra. I don't anticipate success. But I suggest to you all: go crazy on the bag covers, express yourself, be true to your type-A ostrich-wearing, leopard-toting forbears and set yourself free!
Whatever. Papa's got a brand new bag.
M.
No Comments yet
Sorry, the comment form is closed at this time.
Dunaber is using WordPress customized and designed by Yoann Le Goff from A Eneb Productions.

Entries and comments feeds. Valid XHTML and CSS.