March 25, 2011 on 6:52 pm by Michael Grey | In
Music
,
Random Thoughts
,
Tips
|
Comments Off

on Advice from Jimi Hendrix
I have to admit I'm not one of those blindly obsessed Jimi Hendrix fans. Not even close. Guitar players tend to worship him – especially electric guitarists. I do appreciate his musicianship, though. Absolutely [I'm sure Jimi is sighing with relief amongst his rock and roll angels].
But his stuff, unlike, say, Cathy-Ann MacPhee's, is not what I listen to; it's not music that tends to make my day – or night – better. And we all know music has that magical power…if directed to the right ears.
But just because someone hasn't dialled in to your music, well, that doesn't make it any less great.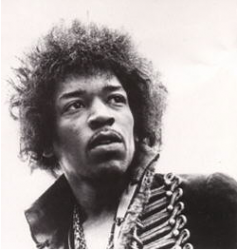 Jimi Hendrix is said to have revolutionized how the electric guitar is played. He coaxed musical sounds from the instrument never heard before. He was a great innovator; the first to use "feedback" as a part of guitar performance. Some say he was the inventor of the rock solo. I can't say but do know all signs out there, out there in the world, point to musical greatness.
So I look to Jimi for some solid advice [funny he should have the stereotypical Glaswegian name: old joke – tram driver to one-legged fare: "How ye gettin' oan Jimmy"…tip of the hat to Peter Aumonier for that one].
Jimi Hendrix gave us great advice; advice that applies to pipers (or any musical instrument, or almost anything, really).
In 1968 he told Guitar Player magazine:
"You have to stick with it. Sometimes, you are going to be so frustrated you want to give up the guitar — you'll hate the guitar. But all of this is just a part of learning, because if you stick with it, you're going to be rewarded."
Really simple stuff. But simple advice, especially from a great, tends to resonate. It does with me.
Patience has it's own reward – and so does any attempt to master the Great Highland Bagpipe.
And another piece of advice that bolts on nicely to this? A bit I've always remembered from Bill Livingstone courtesy of John MacFadyen: "if it was easy everyone would do it."
Stick with it.
M.
No Comments yet
Sorry, the comment form is closed at this time.
Dunaber is using WordPress customized and designed by Yoann Le Goff from A Eneb Productions.

Entries and comments feeds. Valid XHTML and CSS.