December 29, 2010 on 7:44 pm by Michael Grey | In
Random Thoughts
,
Tips
|
2 Comments
The world is full of surreal moments. We sometimes catch them, see them, live them and take them in and we're almost always better for it. And sometimes we're oblivious to the thought-provoking charms of the surreal around us. The surreal moment: that dream-like, unexpectedly fantastical and completely out of context with what we expect from our usual here-and-now.

Calendar year-end is an especially reflective time for most. It is for me. As I write this I found myself momentarily distracted (surprise) by a link to Mike Paterson's most recent blog post. Talk about the universal mind – or coincidence – or whatever. Mike's words, much more erudite than mine, touch on some of what was on my mind: and that is we'd all be so much better off if we took in and appreciated the natural wonder around us; if we reasoned less and felt more. Wrote Mike, "We need an existential present tense that fills us with excitement and awe." Even better, maybe, if the existential is surreal!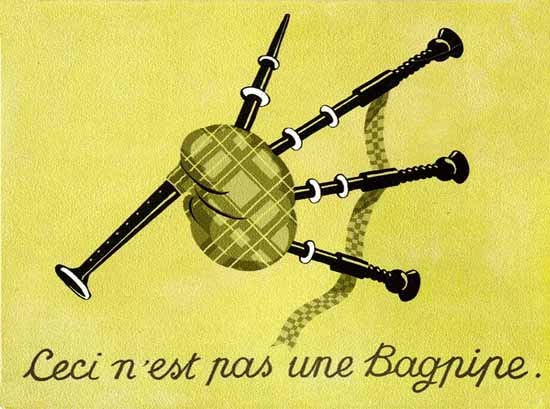 I'm no philosopher (a tip of the hat to my friend, James "Jamie" Hunter) but it does seem right that there's meaning to be had from the surreal. I think now to some of my own surreal moments of 2010 – and since this is a bagpipey blog I'll stick to those of that kind. I'll spare you detail around the personal meaning and hope the surreal is mostly self-evident.
My surreal list here in appropriately random order:
• A wicked be-kilted ride on The Scrambler on Dunoon pier following a long day at Cowal games. With Jenny Hazzard on the wrong side of the centrifugal scramble and a rollicking last place tucked in our collective sporrans it remains a strangely sweet memory.
• Still at Cowal, the Toronto Police Pipe Band's march up to the line and Pipe Major Ian K MacDonald's shouting out in his best "Wild Bill Hickok", a seriously good-intentioned, "Yee-haaaah!".
• Walking down the High Street in Edinburgh and literally bumping in to Allan MacDonald as he made his way in to Geoffrey the Tailor's to buy a new sark for his show at the Northern Meeting. Remember, the surreal isn't about the big moment.
• Bill Livingstone stepping down as Pipe Major of the 78th Fraser Highlanders Pipe Band. And, yes, the surreal moment can be a big moment.
• The band's el Mocambo show. The whole experience was sort of surreal but for me tuning up in one of the freezing backrooms and spotting a poster for Elvis Costello's 1978 show sticks out.
• Ok. Not a piping moment but worthy of this list: blooming daffodils in January in Dublin.
Here's to more dream-like, fantastical and surprising moments – all out of context from the norm in our workaday lives.
Cheers,
M.
2 Comments
I loved this post. I sometimes forget what a talented writer you are. And the Magritte-esque (bag)pipe is brilliant!

Comment by janeclark — January 1, 2011 #

Thanks! Only a close relation would say such a thing! Happy New Year! M.

Comment by Michael Grey — January 1, 2011 #
Sorry, the comment form is closed at this time.
Dunaber is using WordPress customized and designed by Yoann Le Goff from A Eneb Productions.

Entries and comments feeds. Valid XHTML and CSS.