November 21, 2010 on 6:11 pm by Michael Grey | In
Music
,
Random Thoughts
|
4 Comments
People who love bagpipe music also love to deliberate what makes good bagpipe music. It happens in solo piping all the time ("Ooh, did you hear how s/he played the first variation of Mary MacLeod? Rubbish. Clipped to hell…").
But, really, its when pipe band music is talked about that we most often hear the most intense debates. I guess its due, in part, because there's more people involved. I think, though, its more the sports-like, hyper-competitive, team elements that characterize the pipe band movement that makes for the fertile ground of relentless pipe band music debate.

And what's debated? The merits of the three-pace roll introduction, the size of pipe bands, the pitch of drums, the pitch of chanters, the merits of tenor drumming and "functional" tuning, "mid sections", what makes a melody, what rhythms are acceptable, harmony, what's too much harmony, what's not enough, the list is freaking endless. The core of all this contention can be summed up in one word: tradition. Perceptions of tradition form the baseline for the debate. Everyone has an idea of what is the tradition and most are ready to take on anyone who might challenge that idea.
Its easy to get wrapped up in it. And its easy to think its the kind of (mostly) parochial debate that only happens in the Great Highland Bagpipe tradition. Not so. Surprise.
The other day I caught a radio interview with the famous Inuit throat singer, Tanya Tagaq Gillis. From Cambridge Bay, Nunavut, she is one of the leading exponents of the ancient art of Inuit throat singing. Inuit throat singing has been passed on countless times from one generation to the next. Traditional form, intonation and style is carefully taught. Sound familiar?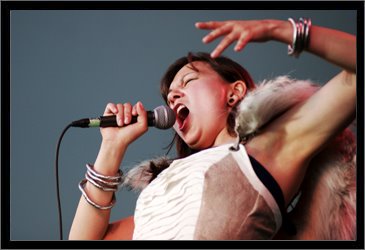 Tanya Tagaq is traditionally trained but something of a bad girl in Inuit throat singing circles. She draws on her current musical influences and experiences (she draws on herself) and interprets the tradition. She's collaborated with the likes of Björk and others and while she's broadened the once small audience of Inuit throat singing her contemporary stylings are not always appreciated by the hard-core Inuit tradition-bearers. They view her as "out there" and not true to the "tradition".
To paraphrase her comments, Tanya believes that while the tradition must always be respected its one that lives and must be reflected in the here-and-now and in the context of the lives of those that interpret it.
Says Tanya, "The world would still be flat if scientists weren't brave and willing to go against the system".
Tanya Tagaq Gillis' way of seeing tradition makes sense to me.
M.
4 Comments
Sorry, the comment form is closed at this time.
Dunaber is using WordPress customized and designed by Yoann Le Goff from A Eneb Productions.

Entries and comments feeds. Valid XHTML and CSS.