October 31, 2010 on 5:24 pm by Michael Grey | In
Random Thoughts
|
3 Comments
As the night draws in and the knocks of expectant trick-or-treaters loom I pass along an odd and seriously old-fashioned bit of ephemera.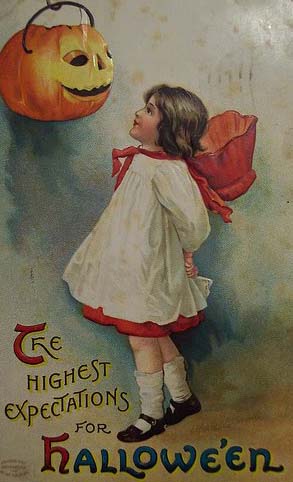 What sort of "expectations" would anyone have of Halloween? I guess kids hope, or expect, a bag full of candy – not apples and homemade stuff (I know "homemade" doesn't happen anymore).
Anyway, this Halloween greeting card struck me as wierd.
The highest expectations for Halloween to you [words I never imagined I'd write].
M.
3 Comments
Clearly a typo. Obviously it was supposed to be "expectorations."

Comment by aberthoff — October 31, 2010 #

Bit of a snotty comment! M.

Comment by Michael Grey — October 31, 2010 #
Sorry, the comment form is closed at this time.
Dunaber is using WordPress customized and designed by Yoann Le Goff from A Eneb Productions.

Entries and comments feeds. Valid XHTML and CSS.