October 15, 2010 on 6:44 pm by Michael Grey | In
Humour
,
Photographs
,
Random Thoughts
,
Solo Piping
,
Technique
,
Tips
|
4 Comments
There's a crazy phenomenon in the piping world [ok, yes, there's more than one, but I'm only talking about one of them here]. This phenomenon has to do with what might be described as the crazed strafing of notes on a pipe chanter; the random rat-a-tat-tat of notes on the chanter. This sort of unhinged insanity sounds like this: "upanddownthescaleupanddownthescalerandomtoptobottomnotesrandomtoptobottomnotes".

Its the very best of autumn in my part of the world and I was sitting out in the back yard today (the back garden, if you will) – after work (naturally) – and off in the distance I could hear it, from the other side of the golf course, this freakishly crazy siren call of the piper: "upanddownthescaleupand…". "WTF?!", says me to me. Here's a pic from this aft to give you a feel for where I'm at: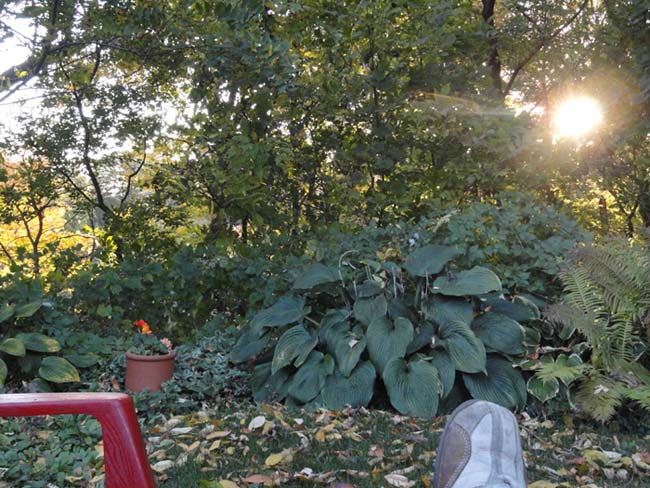 From time-to-time, in the last year, I've heard the hint of a piper from the other side of the course [I'm super lucky, I think, my house backs on a golf course – though I don't golf]. Anyway, over the summer I've occasionally pulled weeds to the far-off strains of 'Barren Rocks of Aden' and other assorted tunes of glory – a very good thing, I say. Anyway, I've also heard chanter strafing. It's the only phrase I can think to describe it.
C.S. is not pretty. I've done my share of it, no doubt. But man-oh-man, when you hear it repeatedly, well, it's absolutely repellent. Not a good bagpipe marketing ploy. In C.S. it's like a piper's hands are squeezing out every drop of bottled up and mostly-insane nervous energy. Not melodic. Not rhythmic. Not pretty.
I wonder today why we do it (and we all do it). I've heard inexperienced players do it, I've heard gold medallists and world champion pipe majors do it, and, as I said, I've done it. It's a bagpipe thing. Why?
I can only think that we chanter-strafe because we marvel that our fingers move at all. We need to know, before we play a tune, that there are in fact nine notes on the chanter. We strafe in a sort of celebration that the notes are roughly in the right place, from a pitch perspective. We strafe our chanters because we can.
C.S. may not sound great but our reasons for doing it seem sort of reasonable. Just sayin'.
M.
4 Comments
Sorry, the comment form is closed at this time.
Dunaber is using WordPress customized and designed by Yoann Le Goff from A Eneb Productions.

Entries and comments feeds. Valid XHTML and CSS.