June 2, 2010 on 9:42 pm by Michael Grey | In
Pipe Bands
,
Stories
,
Tips
|
Comments Off

on 5 Seminal Moments in Pipe Band History
The trouble with trying to nail down a seminal moment is you can only really choose from your own experience – moments you've lived through – or – imagine past "moments" in history and choose accordingly. Either way, in picking important moments in time, no matter how thoughtful and reflective you think you've been, it all comes down to opinion. And we all know the world needs more of that.
In this list I've stayed away from competition winning streaks; I'm not sure record-breaking fits in that well with the definition I'm using: those moments that might be defined as "highly original and influencing the development of future events".
So here're my five "seminal" moments; I haven't cast them in stone, of course, and these could all change tomorrow:

1. Friday, Janaury 18, 1901 – 9:30 pm – MacDonald, Morrison and Norris meet in the Horse Shoe Bar, Drury Lane, Glasgow and devise the three pace drum roll to the bagpipe 'E' note to commence the pipe band performance of a march tune alongside a strathspey and reel. Pipe bands never looked back.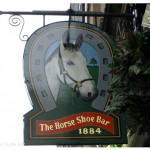 2. Saturday, June 22, 1957 (month/day to be confirmed) – Drumming maestro Alex Duthart, with his drum corps of Shotts & Dykehead Caledonia Pipe Band, wins the first of his 14 world drum corps championships. This moment marks the sort of official comming of age of his pipe band drumming style. A virtuosic and musical way of scoring and interpreting that is standard today.
3. Monday, September 21, 1959 – 12:15 pm (date/time to be confirmed) – Bob Hardie agrees to take on the leadership of the Muirheads & Sons Pipe Band from Jackie Smith. Pipe Major Hardie builds on Smith's already excellent band to create a legend. Hardie's band creates a sustained level of musical excellence that is reflected in their refined musical phrasing, sophisticated technique and tight unison. Without Hardie and Muirheads we would not see pipe bands evolve as they have.
4. Saturday, August 13, 1983 – Boghall & Bathgate Caldeonia Pipe Band play their medley at the World Pipe Band Championships begining with the "The Big Road Brusher". This excellent tune, written by accordion player, Bob Abbott, marked the beginning of a generation's worth of medley openers and created, it might be said, a new form: the pipe band "marchpipe" or "reelpipe". Here's a 1984 rendition:
5. Wednesday, August 12, 1987 – 8:00 pm – 78th Fraser Highlanders Pipe Band, concert in Ballymena, Northern Ireland. This evening represented the output of a dynamic musical collective that was the band at that time and signalled a change in the way many pipe bands build and portray their music [full disclosure: I was part of the band that played this show].
I can think of at least five other moments but blogs work best in fives, don't you think.
You'll have your own moments, I'm sure.
M.
No Comments yet
Sorry, the comment form is closed at this time.
Dunaber is using WordPress customized and designed by Yoann Le Goff from A Eneb Productions.

Entries and comments feeds. Valid XHTML and CSS.