May 28, 2010 on 6:51 pm by Michael Grey | In
Pipe Bands
,
Stories
,
Tips
|
11 Comments
I was building a list in my big square head – perfect, I thought, to note here: "Seminal Moments in Pipe Band History". Anyway, as I started thinking and writing I found two lists developing: "inventions" and "moments". My "seminal moments" sit in a draft file, the easier list is here. So here, I suggest, are five of the most important inventions, or developments, that went a long way to make the modern pipe band the impressive thing that it is today.

1. Matched Plastic Chanters: while many of the world's few elite pipe bands have had "matched" chanters since the 1950s (meaning instruments built and fine-tuned to sound to identical specifications) most of the world didn't drink from the fine-tuned cup of sound until much later. The mid-century chanters were made of blackwood and expensive – unless, maybe, if your pipe major was a bagpipe maker; think of Pipe Major Bob Hardie and Muirheads & Sons Pipe Band.
It wasn't until the mid to late 1970s when people like Gord Tuck in Ontario and James Warnock in Northern Ireland (and others) started building chanters made from high density thermoplastics like Delrin and Polypenco. These new chanters, cheap and durable like an old Ford Fiesta, allowed the broader pipe band world easier access to unanimous pitch. The plastic chanter became a sort of equalizer, raising the quality of pipe band sound across all levels of proficiency and ability.
2. Synthetic Drum Heads: Invented in the 1950s (Wikipedia says the Mylar drumhead was invented by Chick Evans in 1956 – so who knows) the impervious nature of the synthetic drum head was a lifesaver for pipe bands. Until then heads were made from natural materials like calf skin or something equally susceptible to environmental changes. Think of the number of times you've heard a band play in pouring rain – or – start a performance in dry conditions only to have the weather turn torrential. Today, when that happens, drum tone changes very little. We can thank the synthetic drum head for that.
A corollary invention might be the Kevlar drum head. Kevlar has been around since the late 1960s but only came to pipe band drum heads in the 1980s. The result was a potential for higher pitch and more complex scoring.
3. Synthetic Drone Reeds: The guys in the band know my feeling about cane reeds: not worth the pain and aggravation. Flicking, rolling, snapping, starting, drying, rebridling, caressing, cajoling, hair-ifying, the list of negatives is effing endless and outweighs any positives by a country mile. I can imagine that there's more than a boat load of pipe bands who have lost championships due to the fickle unreliability of cane reeds (I'm talking not just of roaring and squealing drones but also instability of tuning). The stratospheric benefits of the synthetic drone reed to today's solo piping standards is a story for another day. I can't praise the synthetic drone reed enough. I believe it was Mark Wygent of the U.S. who developed the synthetic reed in the 1980s with Glasgow's Ronnie MacShannon and company being among the first to perfect the reed in the early 1990s.
Oh synthetic drone reed! Where were you when I started piping? I would've learned so many more tunes and practiced so much more (and probably had so much more hair today) had I not been forced to fiddle with bespeckled cane nasties.
4. The Korg Drone Tuner: I remember Ed Neigh's Guelph Pipe Band of the 1980s as the first to use the big, grey, Soviet-looking Korg drone tuner. "Har, har", we'd all laugh, as Ed and Pipe Sergeant Jim McGillivray speedily tuned the band to refined perfection. We were pipe band goofs who didn't know better.
The tuner, like the plastic chanter, has brought the sound of even the least proficient bands up a notch – or ten. When I think about it – the advent of the electronic tuner could easily slip into number one spot on my wee list.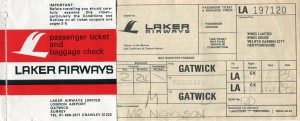 5. Cheap Air Travel: When I started in the pipe band game air travel was not common. It wasn't uncommon. But it was not common. The competing bands of the world did not travel to Glasgow with any great regularity. Overseas trips were events and not, as they are today, akin to a July jaunt to a local cottage or summer place. There's an implicit assumption today in many of the world's competing bands that membership means personal commitment to an August trip to Glasgow. The effect of that assumption is a note for another day, but because of cheap(ish) air travel, that's the way of it.
Still travelling today may be cheaper compared to times past but it sure is a lot less fun: no smoking cigars at the back of the plane (with drink in hand) or pipes strafing jigs at 10,000 metres – it's all about removing shoes and belts and all the rest of the (now) usually torturous security rigmarole.
When I read today about great bands like the Australian Highlanders having to pass on the Worlds due to travel cost I have to think the winds of change are blowing and maybe Glasgow's Worlds may be in the midst of a regression to past times.
Anyway, my point is that cheap air travel, to now, has brought the pipe band world closer together. It helped build friendships and it helped in the exchange of music and musical ideas. Even more than the Internet. Yes, I did consider the Internet.
There you go. Five things. Maybe a little food for thought to think of your own.
M.
11 Comments
Sorry, the comment form is closed at this time.
Dunaber is using WordPress customized and designed by Yoann Le Goff from A Eneb Productions.

Entries and comments feeds. Valid XHTML and CSS.