March 19, 2010 on 1:43 pm by Michael Grey | In
Music
,
News
,
Shout Outs!
|
2 Comments
It seems somehow right that I should be listening to Calum MacCrimmon's new record, "Man's Ruin", on a Westjet flight to Calgary. The Scotland-based Canadian piper/multi-instrumentalist – and heir to the MacCrimmon piping line – comes from Alberta. It was western Canada, too, in Saskatchewan (the place you can all "say without starting to stutter"), too, while teaching at that school I first met Calum. Anyway, gotta write about his CD work, its "excellento" as Jack or Victor might say. His music is cool in that confident, strutty, know-what-I'm-doin-and-I'm-doin-it sort of way. I guess that's as a good a definition of cool as anything, isn't it.

So I dump the CD on the Walkman and wait for the pipes. And wait. And by the end of the final track, guess what, no pipes. Love it. His cover artwork is a tease: all drink, woman, pipes. His music is a bit like that, too: funkytown guitar and bass riffs amid virtuosic whistles strafed with fiddles, vox and a respectful splash of Gaelic.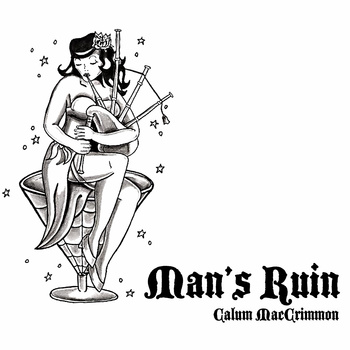 So much easier, I know, to make multi-instrumental music without the untempered Great Highland Bagpipe getting in the way. But he says that's not why the pipes were left in the cold box . His composer's brain was in the key of funk apparently. And that was a good thing for this project. Think fuzzy-hatted brothers playing the Park Bar – if the Park Bar was in Detroit – or Chicago (if the horns are going like on "Under the Influence").
The vocal tracks – the songs – stand-out. I thought he'd blown the budget when I heard the silky smooth "Lonely Man", sure he'd hired James Taylor as guest. He didn't of course (well he may've blown the budget but it wasn't by booking JT). He's built and sung a really good song.
I think Calum has to be the poster boy for piper-as-musician. It strikes me that most pipers think of themselves as pipers. Not musicians and certainly not artists. They're pipers. Then there's Calum: musician, artist and – by the way, by chance and by blood – a piper. A real MacCrimmon. His brilliant forbears invented and refined an art form. They, too, were musicians, artists and, lucky us, pipers.
I think we need more Calums. More musician-artist-pipers. More MacCrimmons.
I'm not sure about Scotland but I know there're pieces of "Man's Ruin" ready for commercial Canadian radio – and, all of it, for your Walkman or iPod thingie.
M.
2 Comments
Good tip. Calum's an interesting, thoughtful musician, with a great sense of humour. Look forward to hearing more. You flew over Regina and didn't stop?!?!

Sorry Iain. I think I slept over Regina. A heavy go in Calgary! Next time. M.

Comment by Michael Grey — March 22, 2010 #
Sorry, the comment form is closed at this time.
Dunaber is using WordPress customized and designed by Yoann Le Goff from A Eneb Productions.

Entries and comments feeds. Valid XHTML and CSS.