September 2, 2009 on 7:04 pm by Michael Grey | In
Pipe Bands
,
Solo Piping
,
Stories
|
6 Comments
When I think of early September I think of the Northern Meeting in Inverness, Scotland. The grand daddy of all solo bagpipe competitions. It's the number one event on the solo piper's calendar; or, maybe more correctly, the solo piper with the most experience, the nimblest fingers and s/he amongst the select global one hundred and fifty or so pipers who aspire to `the medals`: the oldest, most venerable prizes offered in the Highland bagpipe world. Of all the indelible memories I have of times spent at the Northern Meeting none stand out more than the one not directly related to bagpipes: tea with Lord Lovat.

Around about 1985 when I was but a "young stripling", as James Campbell of Kilberry might've said [a subject for a future post] I had the great good fortune to play in the 78th Fraser Highlanders Pipe Band and hang about with people like Bill Livingstone. At that time in my music career, especially, I was super-lucky to be exposed to the thinking and musicianship of truly great players like Bill. As a brash, piss-and-vinegared onion head (not unlike almost any competing piper of a similar age) I had many opportunities, thanks to band associations, to meet and be in the company of a lot of interesting and accomplished people, people that I might not otherwise have had the chance to meet, or know – at least not so early in my career.
One of the great figures of the north of Scotland at the time, and the whole of Britain, for that matter, was Brigadier Simon Christopher Joseph Fraser, 15th Lord Lovat: War hero, soldier, politician, sportsman, one of Britain's largest landholders, a Lord of the Realm – and lover of bagpipes.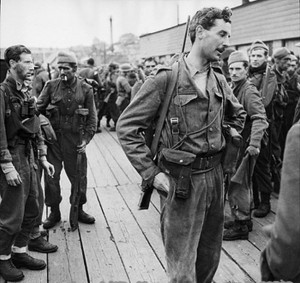 Winston Churchill, in a letter to Joseph Stalin, described Lord Lovat as, "the handsomest man who ever cut a throat". It was Lovat, the war hero, who led his commandos ashore on D-Day – "The Longest Day" – to the sound of Piper Bill Millin's bagpipes.
At "Inverness" (the competing piper's synonym for the Northern Meeting) during the year of my recollection Lord Lovat was in attendance on the second day, the day of the Clasp event, the big event for former winners of the Gold Medal. Bill Livingstone competed in the event and was introduced to Lovat. They struck up a good conversation, probably the only kind both could carry. It should be noted Lovat was 25th Chief of the Clan Fraser and Bill, Pipe Major of the 78th Fraser Highlanders Pipe Band, a group sponsored by a group of Canadian historic commemorators of the seminal, "Battle of the Plains of Abraham" where the 78th Fraser Highlanders, and Lovat's forbears, figured prominently. Anyway, the conversation of the Fraser piper and the Fraser Chief proved satisfying enough to warrant an invitation to tea the next day at Beaufort Castle — Lord Lovat's home on his Beauly estate outside of Inverness. And guess the name of the gooseberry travelling with Bill and his wife Lillian?
Yes, indeedy, it was me. No shame. Tea with Lord Lovat at his castle – bring it on!
So it was to be. The three of us loaded up the rented Ford Fiesta and made our way from our Kenneth Street, Inverness, B&B to the castle for a spot of tea with His Lordship.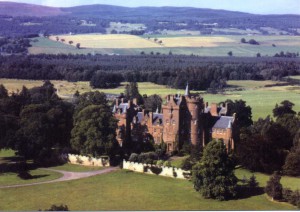 And here's your cliche of the day: I recall the whole meeting like it was yesterday. After winding down the long tree-lined drive of the estate we arrived. We parked and nervously made our way up to the castle's big door (I'd wager even Bill, the experienced lawyer that he was, would concede nervousness). And knocked (and, with apologies to Mel Brooks, "what knockers!"). Expecting no less than Jeeves to answer the door we were greeted by a kindly Highland woman dressed in a cleaning smock, "Yes?", she said. "We've an appointment to see His Lordship," Bill replied. "Yes, come this way". And in we were. I recall Bill saying 'His Lordship' because I clearly recollect us dissecting the visit and laughing together at the line. I mean, outside of a movie set, how many times in your life would you find yourself saying, "We've an appointment to see His Lordship"? We thought it hilarious.
We were seated in big comfy over-stuffed chairs in a bright sitting room. Within minutes Lovat entered the room and warmly welcomed us all. I recall a big presence: well over six feet in height, a healthy, ruddy complexion and an impressive shock of thick white hair. Shortly after sitting tea was brought in on what I recall to be an especially ornate-looking tray. "Would you pour the tea, Lillian?", Lovat asked Bill's wife, and, of course, she did. But I think Lillian may've felt a bit like Hyacinth Bucket's accident prone neighbour, Elizabeth (see the BBC show: "Keeping Up Appearances"), in dutifully filling the Limoges cups. Happily, no breakages.
So there we had it. Tea with Lord Lovat. A lovely meeting with a bona fide 20th century hero and undeniably warm, friendly person. We discussed his estate, the challenges in keeping it, bagpipes, bagpipe politics, and, I distinctly recall, his opinion on the prospects of a Canadian band winning the World Pipe Band Championship (he thought likely). Lovat had a lot of Canadian connections and he was genuinely pleased to see the result two years later, when the 78th became the first non-Scots band to win the championship.
Lovat saw us out to our car. As we made our way down the tree-lined drive we looked back and saw Lord Lovat slowly walking down the middle of the road back to his home. The three of us all regretted not having a camera, thinking this a great image of the man. "What a great band album cover", we thought.
Lord Lovat died in 1995.
Anyway, there you have it, a look at of one of my great and good memories.
M.
6 Comments
Sorry, the comment form is closed at this time.
Dunaber is using WordPress customized and designed by Yoann Le Goff from A Eneb Productions.

Entries and comments feeds. Valid XHTML and CSS.