May 22, 2009 on 3:22 pm by Michael Grey | In
Music
,
Pipe Bands
,
Tips
|
2 Comments
A couple of weeks ago I attended the Pipers' & Pipe Band Society of Ontario's annual adjudicator's seminar. The theme of the day was the always-befuddling topic, "pipe band ensemble". As you should expect, there was lots of interesting discussion. I was pleasantly surprised to find that there was a high degree of dislike for the word "ensemble" – I'd never thought much of the word, either; in fact, it was a possible majority who thought the word could be replaced with something better.

"Overall Presentation", "Presentation", even "Groove" were suggested as improved alternatives. I tend to agree. We could do better than the word "ensemble". I like "engagement". I'd have to think the best outcome of any overall pipe band presentation would be to engage the listener; make a connection with the audience – the adjudicator, too, for that matter. When we get that right we know we've delivered the package deal, when all pipe band members have come together to successfully make something good happen.
"Ensemble" is a common topic of conversation in the Toronto Police Pipe Band – like most bands. Rhythm, sound, composition, technique, balance, dynamics all words we use in the context of creating a pleasing ensemble of pipe band voices. I'd think of ensemble as rhythm, sound and tune/composition coming together but prefer Doug Stronach's descriptors: rhythm, melody and harmony.
So consider pipe band ensemble: the confluence of rhythm, melody and harmony. By the way, I tried to keep this as jargon-free as possible – there's room for improvement on that front.
Click here for a pdf file of the image below.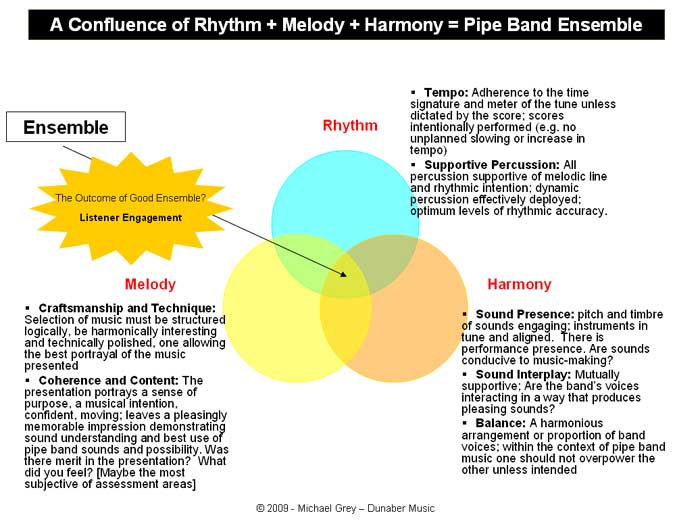 Food for thought.
M.
2 Comments
YES!!! As a dedicated member of the pipeband audience, engagement is EXACTLY why I show up year after year. Of course, practice for technical merit, but come competition day – let go and show me the love of why we are all here!!!

Comment by eileen — May 29, 2009 #
Sorry, the comment form is closed at this time.
Dunaber is using WordPress customized and designed by Yoann Le Goff from A Eneb Productions.

Entries and comments feeds. Valid XHTML and CSS.