March 15, 2009 on 9:39 am by Michael Grey | In
Humour
,
Pipe Bands
,
Solo Piping
,
Tips
|
Comments Off

on A Fresh Look at Delivering a Clean Performance
The Swedish golder, Henrik Stenson, stole some of the shimmering glow around Tiger Woods' return last week. You've probably seen the story, a quirky breath of fresh air amongst all the gloomy stuff. From Reuters, "Stenson's wayward drive on the third hole landed in muddy terrain near a water hazard and he decided to get down to basics rather than play the rest of his round in muddy clothes".

Good for Henrik. After all, he was only at the third hole and by stripping down to his underpants he saved a wicked, wet haul to eighteen festooned in Miami muck and teensy blades of golf grass. Henson reportedly said, "Because of the mud I couldn't really afford to play in any of my clothes as they would have been a real mess down the last six or so holes so I had no option."
To now, when it came to effective, self-assured performance, I had always made a connection with pressed pleats, immaculate turnout, fine stitching. No more.
In truth, it's no pleats, no stitching, and lots of bare skin. It's the supremely confident who can – and do – perform in their underpants.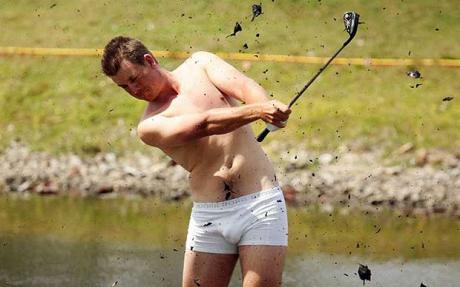 Can you imagine: Glenfinnan Games field after the third day of pouring rain … mud, water, (and midges) everywhere and you in your fine 16 ounce grade "MacLeod of Lewis" kilt and 100% natural fiber Barathea jacket, your treasured wool hose hand-knitted by your recently infirm granny, leather brogues newly re-soled…all set to play your tune for Iain MacFadyen and John MacDougall: "Sorry gents", says you to the judges, "I've still got the jigs and MSR so if you don't mind I'll play my 'Viscount of Dundee' in my pants". There's our piping equivalent of "doing a Stenson".
Bands, too, would save big money on kit maintenance. "Right," might say Rab Mathieson, "That's the rain on, off with your kilts, we'll be doing a Stenson for the Donald Cameron set".
Skål, Henrik!
M.
No Comments yet
Sorry, the comment form is closed at this time.
Dunaber is using WordPress customized and designed by Yoann Le Goff from A Eneb Productions.

Entries and comments feeds. Valid XHTML and CSS.