January 15, 2009 on 10:15 pm by Michael Grey | In
Music
,
Tips
|
2 Comments
Here's a little quote courtesy of the 19th century American poet and transcendentalist, Ralph Waldo Emerson.

This little quotation is one of my favourites. The clipping comes from Toronto's Globe & Mail and has been on my fridge – courtesy of a trusty magnet – for, I think, over 10 years.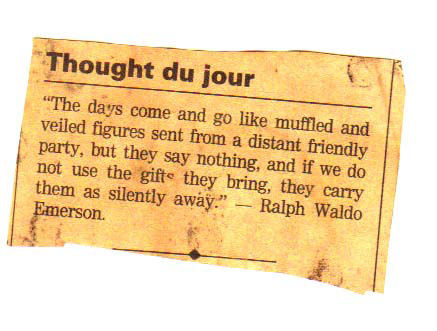 M.
2 Comments
I like the quote quite a bit. But had litte chuckle at our desire to make things seem a tad more sophisticated by coupling un peu de francais avec the english. Thought 'du jour'. Not sure why but made me smile!

Cheers,

Crooks

Comment by ccrosbie — January 26, 2009 #
Sorry, the comment form is closed at this time.
Dunaber is using WordPress customized and designed by Yoann Le Goff from A Eneb Productions.

Entries and comments feeds. Valid XHTML and CSS.