December 15, 2008 on 8:24 pm by Michael Grey | In
Music
,
Stories
|
12 Comments
Of the thousands of tunes made for playing on the Great Highland Bagpipe, there's hardly a Christmas tune in the lot.  Pipers write tunes for their pals, mums, dads, bands, teachers, to commemorate "in" jokes and happenings, birthdays, retirements, battles won and lost and places.  But not much for Christmas – or Hogmanay or New Years for that matter! 

The "Christmas" tune I am most familiar with is the ordinaryish traditional reel, "The Christmas Carousal" (sometimes misprinted as "The Christmas Carousel" and that's something completely different - fun, maybe, for the kiddies).   There's also, "Christmas Eve", by Angus Cameron found in David Glen's number 13 and "The Christmas March", by Donald Varella found in his U.S. Bicentennial Collection.  I'm sure there's a few others but its definitley slim pickings on the jolly old tune front.  The Noël is fairly dry, I'd say.
For Christians and a lot of fun-loving secular-cum-druid types Christmas is one of the biggest celebrations of the year.  I have to think most of today's (and history's) pipers fall in to the category of Christmas-celebrators.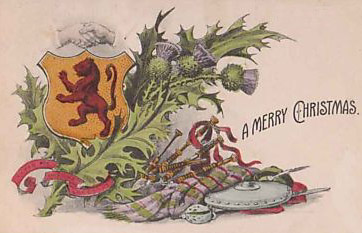 I wonder why it is that there is so little music composed by pipers to mark Christmas?
Surely Burns wasn't right when he named his typical piper in his, "Tam O'Shanter":
There sat auld Nick, in shape o' beast;
A towzie tyke, black, grim, and large,
To gie them music was his charge:
He scre'd the pipes and gart them skirl,
Till roof and rafters a' did dirl.–Â Â 
I'll have to make my first Christmas-named tune this year!
M.
12 Comments
Sorry, the comment form is closed at this time.
Dunaber is using WordPress customized and designed by Yoann Le Goff from A Eneb Productions.

Entries and comments feeds. Valid XHTML and CSS.