September 10, 2008 on 2:48 pm by Michael Grey | In
Photographs
,
Stories
|
6 Comments
What sad news that the dynamic force of nature known as Scott MacAulay has died.  I've known him for pretty much as long as I have been piping, and, I guess, because of that, I'd expected him to be around for, at least, as long as I was.  I hadn't spent much time with Scott over the last number of years; like so many people we know, especially friends, we take them for granted: "I'll call tomorrow", "We'll get together soon".

It was in the early days of my piping career, especially, that we spent the most time together.  Almost all of that time an adventure of one kind or another – or, at the very least, a seriously memorable time.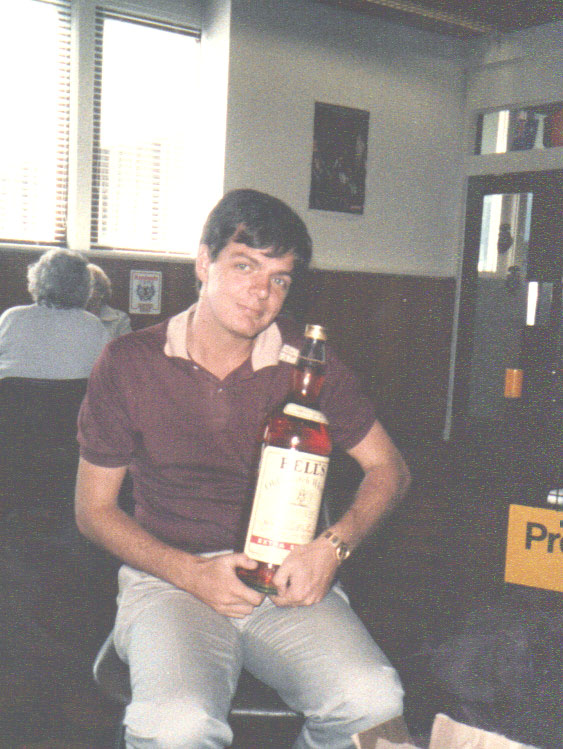 Scott was an intelligent, sharp-witted guy; he embodied the whole idea of joie de vivre; he was the very best company.  He had a natural gift for disarming and engaging people -particularly the cold and austere personalities; for Scott, the colder the better; for him, always a welcome challenge to break through the crust.  Of course, this is a handy talent in the piping world, especially.  It stood him in good stead and he made countless friends the world over.  He attracted people.  Where there was good company to be found, Scott would invariably be at the centre of the proceedings.
So, so many stories that might be told but one in particular springs to mind.  I think of it quite often and smile to myself: 
One year at Oban, well after last orders at The Tartan Tavern, Scott and a bunch of us including, Bruce Gandy, Andrew Berthoff, Colin MacLellan and a couple of others, poured out of the pub still keen for the party to keep going.  We were all staying in cheapie B&Bs and the only places still serving booze at that hour were the larger hotels – and only serving to residents.  Scott had the fine idea of marching us down to the poncie (to us then) Caledonian Hotel – and their lovely still-open bar.  "Only for residents, Scott!", we tell him.  Undetered, he has us boozily trotting straight to the bar – much to the annoyance of the weary barman.  Always the man with the plan, Scott had made a quick scan of the room keys and numbering system as we passed front reception.  We brazenly park ourselves at the bar and order a drink.
"Ye've tae be residents, " says the barman.  
Not missing a beat, Scott says, "I am.  MacFarquharson.  Room 10."
Looking none-too-pleased the barman takes our orders.  His suspicions still high (we really didn't fit the mold of the hotel's blue-rinse, bus tour clientele).  Full of drink and ourselves we continue to have a grand old time until Sherlock, the barman, finally checks the reception book to vet "MacFarquharson's" identity.  
When the barman disappears we all figure we've got the proverbial red light.  He returns angry as hell, "Yer no' residents! GTF! Ahm callin' the polis!"  We scatter and not long after Bruce built a tune, "The Caledonian B-line".      
Anyway, a good Scott story.  I think I have a 100 like it.  We're here for a good time, not a long time, he'd say.  I can hear him yet, when there was fun to be had, "pitter patter, let's get at 'er".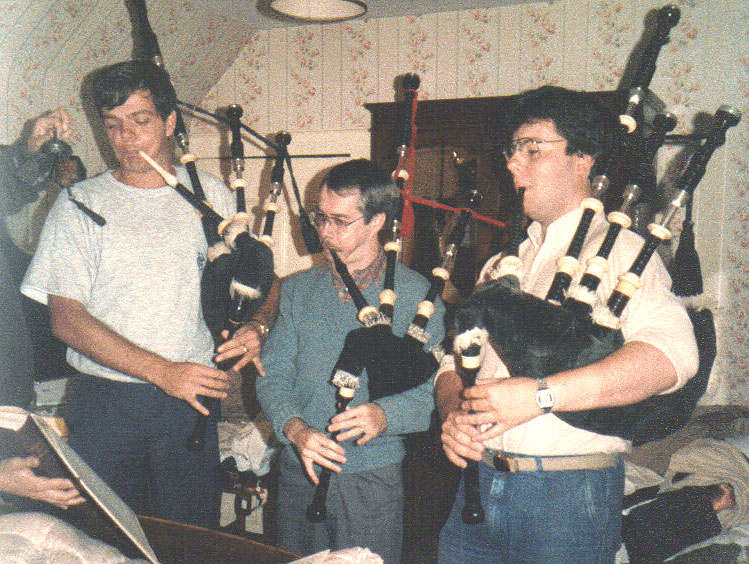 All the fun, patter and hijinx aside, Scott was a canny, astute and successful businessman.  From the ground up he built a multi-million dollar institution, his legacy, in his College of Piping, Summerside, Prince Edward Island.  Through the force of his personality and his intelligence he built a school and created an environment where he could indulge his great passion, the Great Highland Bagpipe – and all that went along with it: good music, good people and always, not far from it all, the Gaelic culture of his parentage.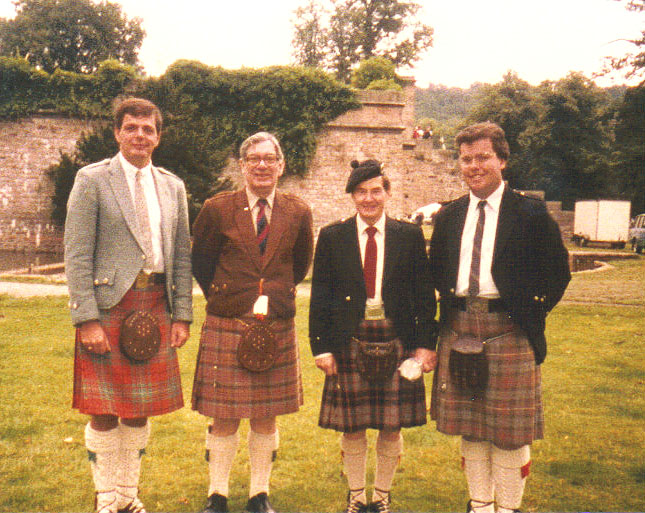 One of the best competitive march, strathspey and reel performances I've yet heard is Scott's performance in Ottawa over 20 years ago:  "Verna Leith's Wedding March, Athole Cummers, Mrs MacPherson of Inveran".  He was a gifted piper, there is no doubt.     
Scott's passing is a sad one for me.  My sincerest condolences to his family and his many friends. 
M.
   
6 Comments
Sorry, the comment form is closed at this time.
Dunaber is using WordPress customized and designed by Yoann Le Goff from A Eneb Productions.

Entries and comments feeds. Valid XHTML and CSS.