September 1, 2008 on 6:00 pm by Michael Grey | In
Photographs
,
Stories
|
9 Comments
Labour Day marks the official end of summer for most people in this part of the world.School starts back tomorrow and there's no more holidays in sight until mid-October and Thanksgiving.

Not unlike yours, I'm sure, my summer was a busy one. It flew by. I'd forgotten how membership in an actively competing pipe band adds exponentially to the speedy passing of warm (and this year, wet) summer time. As in years past I spent precious vacation time in Glasgow for the week leading to the world pipe band championships. This year I stayed on a little longer to journey to the Outer Hebrides, to Benbecula.
In the many years I've journeyed to Scotland I've never managed to make the trek to grammy's home town, or, more accurately,"home place" – there are really no "towns" in this part of the Outer Hebrides, at least not as I know them.
The trip from Glasgow to the Outer Hebrides is not easy and certainly not cheap. Ask Boswell and Johnson (a journal I recommend reading). The surface route is all road or rail and ferry – and long.  By air its a toddle, a 45 minute flight. The path of least resistance can often deceive and the breezy flight doesn't disappoint:no stand-by cheap tickets here – you can expect to pay $700 (CDN) for the pleasure of a bumpy air-borne jaunt. I did. And context?   The return flight from Toronto to Glasgow was 'round about $1200 (I was lucky to arrive home on Zoom Airlines four days before they went bust).Anyway, I didn't have the time for the more adventurous and economical surface journey and made up my mind to go, and to fly, all the while thinking of that great Yiddish proverb, "if not now, when?". A Merry Christmas to me.
I knew of Benbecula and the Uists from what I'd heard from grammy (cold, barren, impoverished [I can remember my grandmother telling me they'd gather bluebells to eat to stave off hunger], peaty, hard,Gaelic – and beautiful) and what I'd read and heard from others who had been. And, from a few, who hail from the place, or who have folks that do, as in the case, for instance, of Roddy MacLeod [his mum]. I had a picture in my mind's eye. On this trip I was determined to soak up a little of the atmosphere, and, if I was lucky, get a closer look-in to my own roots.
I flew out of Glasgow on yet another one of the rainy, overcast days that plagued the excellent PipingLive festival, and "worlds week". After 10 minutes in the air, the clouds broke and I, along with the ten or so others rattling around the cabin of the SAAB 340 turbo-prop, enjoyed an unfettered view of the west coast of Scotland – all the way to Benbecula. The decision to fly looked to be a fair one, after all. The scenery from 12,000 feet was unforgetably magnificent.
The airport in Balivanich, Benbecula is small, maybe the smallest I've yet flown to; Happy Valley-Goose Bay, Labrador, is Heathrowesque in comparison. Here's a view from the front doors of the airport; a bucolic sight that lived up to my island preconceptions: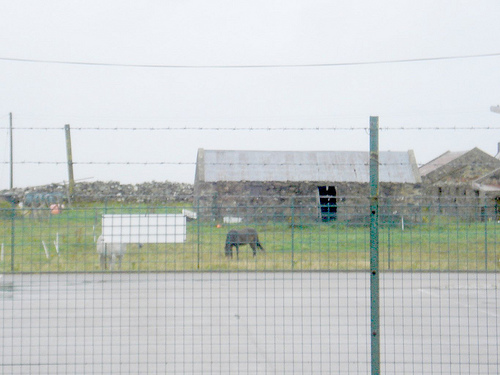 The woman from the car hire place was waiting for me in the arrivals area and handed me the keys to the car after a signature, a glance at my credit card and her instructions to, "leave it in the car park unlocked when you're done – with keys in the sun visor". I was off and running.
One of my first stops was the Megantic Outlaw, a fellow immigrant to Canada.  I stood in the ruins of her black house across from the old school house in Torlum.  Like so many Gaels I know, still well preserved – resilient, in fact. I managed to walk the same ground and saw the same sea.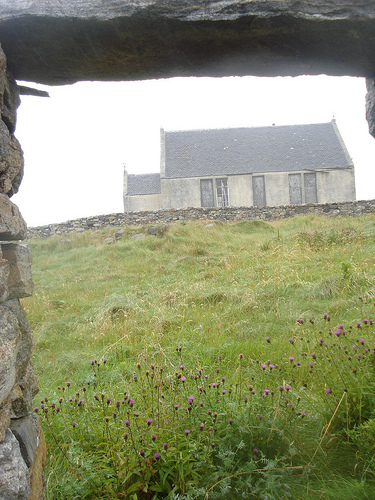 All in all, I was glad to tromp around bonnie Benbecula and can happily suggest you do the same.I know I'll be back. A few photos here for those especially interested.
PS. To put it all in the realm of the here, the now:  Blackberry users note: service is fine from Lochmaddy to Lochboisdale.
9 Comments
Sorry, the comment form is closed at this time.
Dunaber is using WordPress customized and designed by Yoann Le Goff from A Eneb Productions.

Entries and comments feeds. Valid XHTML and CSS.