March 31, 2008 on 9:18 pm by Michael Grey | In
Photographs
,
Pipe Bands
,
Stories
|
1 Comment
Southern Ontario in general and the Toronto area especially used to see a lot of teaching happening – and a lot of kids' pipe bands.  I can't say for certain today how much teaching is going on but I do know we don't have many "junior" bands around, the kind built for kids. 

This part of the world is experiencing a pronounced drop in event participation.  The recent cancellation of the Toronto Indoor Games is only one example.
I'm not entirely sure why this is the case – that we don't have lots of bands focused on teaching young people – but we're feeling the effect today, there's no doubt.
I started out in the Downview Junior Pipe Band, a west Toronto-based band taught by Terry Cleland, the long-time Pipe Major of the 400 Squadron Pipe Band.   The band would meet Sunday mornings at 10:00 am at the Falstaff Community Centre in Downsview (today still a slightly unsavoury part of Toronto).  With practice chanter and "green tutor book" in tow, Terry or one of his pals from the 400 Squadron, would teach kids – for free.  The Downsview band was around a long time and started off countless pipers – many still playing today, some in first grade bands.  Terry – and people like him – are the real heroes of the tradition-bearing set.  I wish we had more of them in action today.  
Here's a couple of photos for your entertainment.  I thought they both had a brilliant rag-taggle look.  The nervous enthusiasm (and squeals and skirls) jumps out.
This is from the Alma Highland Games, Michigan, USA, May, 27, 1977:  My first outdoor pipe band contest (I had a run at the Toronto Indoor Games one month prior so I was full of experience and confidence).  I remember this well.  
Here's the march to the field.  I'm behind the PM, a bespectacled Hector MacDonald takes up the Pipe Sergeant's position.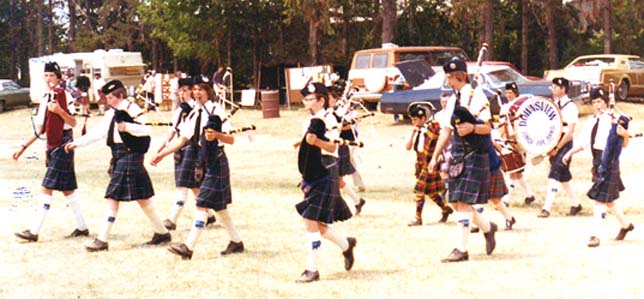 And here in full competitive flight (or fright) – I'm on PM Ron Morandin's left.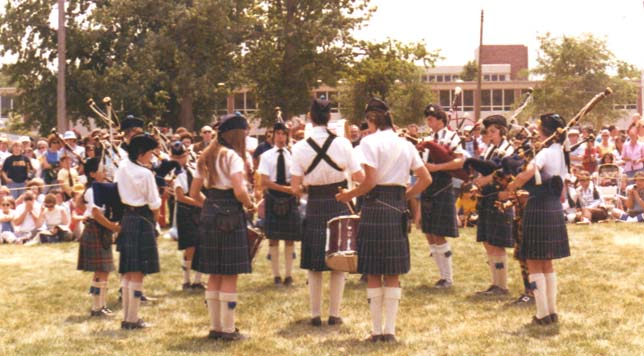 Happy days.
M. Â 
          
1 Comment
Mike, those pics have brought back a lot of memories. Alma 1977 was my first contest as well.

Randy Egan

Comment by Piper673 — July 22, 2009 #
Sorry, the comment form is closed at this time.
Dunaber is using WordPress customized and designed by Yoann Le Goff from A Eneb Productions.

Entries and comments feeds. Valid XHTML and CSS.