February 23, 2008 on 11:11 am by Michael Grey | In
Solo Piping
,
Tips
|
5 Comments
Pipers are some of the most competitive-minded people on the planet.  Gather a few pipers, throw a shoe box up for grabs (a functional, if not stylish, trophy), find a judge and, voila, you've got the makings of a grand solo piping event.
I'm not entirely sure why this is the case – that pipers love to compete – but it's a truth.  The great early 20th century Scottish piper, Robert Reid, is often quoted as saying, "a competition is only as good as its judges"…or something like that.  If you're a competitor this statement is absolutely accurate.  Of course, if you're a listener, its all about the performance – who cares if the judges are onion heads.
Anyway, I was ploughing through some old books this morning and stumbled across David Graham-Campbell's publication, "A Guide to the Judging of Piping", a 14 page pamphlet published by The College of Piping in 1954. 
Even with a good few quaint lines throughout ("The players are sometimes given journey money provided they play up to a minimum standard which is decided by the judge.  To withhold journey money is an unpleasant task for the judge and he should recommend in only extreme cases."), over half a century after publication, most of Graham-Campbell's advice holds up well .
Here's an excerpt from his judging hints; every single one of his points stands as invaluable advice for any judge, anywhere: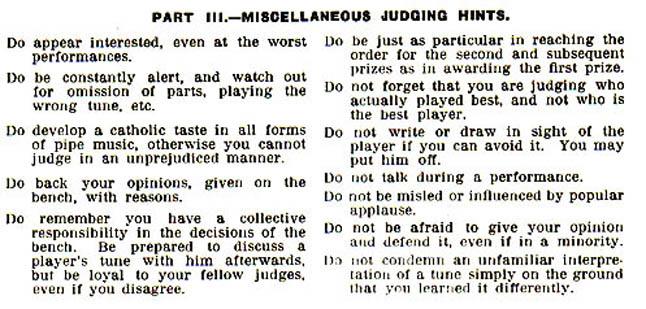 M. Â Â Â Â 
5 Comments
Sorry, the comment form is closed at this time.
Dunaber is using WordPress customized and designed by Yoann Le Goff from A Eneb Productions.

Entries and comments feeds. Valid XHTML and CSS.